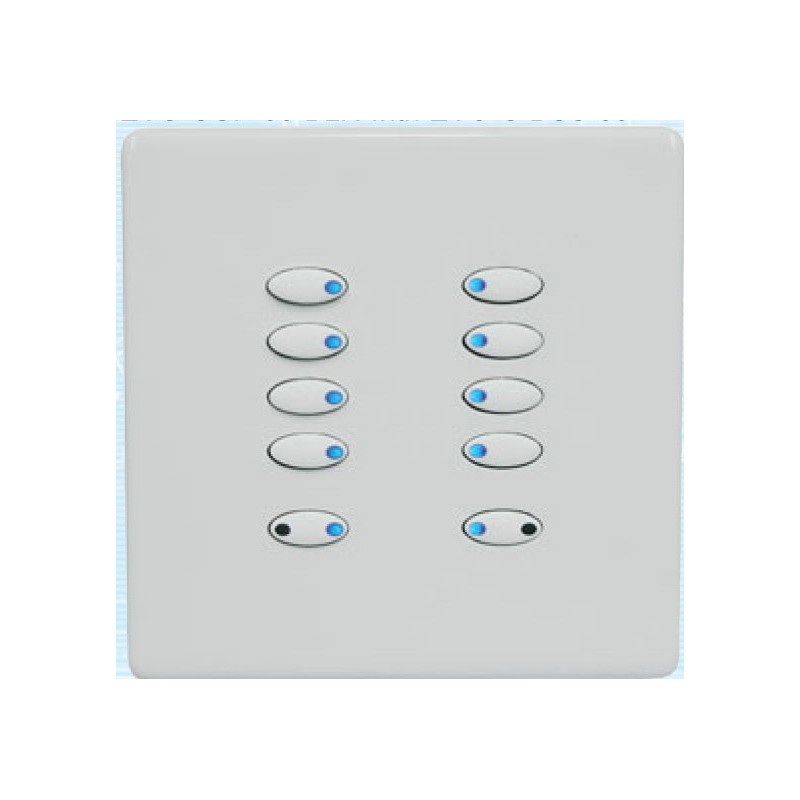  
Mode Evolution Ellipse Switch Plate - White (10 White Buttons, Single Gang, excluding Fascia Plate)
Mode Evolution Switch Plate - White (10 White Buttons, Single Gang, excluding Fascia Plate)
Key Features
SINGLE GANG PLATE.
STYLISH SCREWLESS fascias.
RGB COLOUR SELECTION for button indicators.
Mode Evolution Switch Plate - White (10 White Buttons, Single Gang, excluding Fascia Plate)
Key Features
SINGLE GANG PLATE.
STYLISH SCREWLESS fascias.
RGB COLOUR SELECTION for button indicators.
BUTTON COLOUR OPTIONS white or black.
USER CONFIGURABLE button actions.
PROGRAMMING socket located under front fascia.
INTEGRAL IR Infrared receiver.
CONTACT INPUTS (2) for configurable control.
DIFFERENT FASCIA FINISHES available.
MODE products are guaranteed for two years.
Evolution is a versatile and highly configurable architectural control system designed for both lighting and peripheral management. Evolution is uniquely adaptable, making it an ideal choice for use in a vast number of applications including modern smart homes, shopping centres, restaurants, hotels, cruise ships, boardrooms, hospitality suites and offices. System features include RS232, DMX, DSI, DALI and 1-10v controls. A built-in astronomical clock facilitates events triggered at any time of day, linked with sunrise - sunset calculations or by user definable seasons. Any input may control any output with the ability to provide operation of a sequence of events, for example, control of lighting, blind motors, commands to building management systems, colour changing etc. Unique features such as self-program-on-installation and distributed intelligence make the Evolution simple to install and maintain. Evolution control panels are supplied with stylish MK Aspect screwless fascia plates. Several finishes are available from stock including Brushed Stainless Steel, Polished Brass, Polished Chrome and White. The action / operation of each button can be individually configured to allow selection of lighting scenes, operation of blinds, commands to RS232 devices or any combination of these features. All Mode products are guaranteed for a two year period.
No customer reviews for the moment.