Bose PowerMatch DSP Amplifiers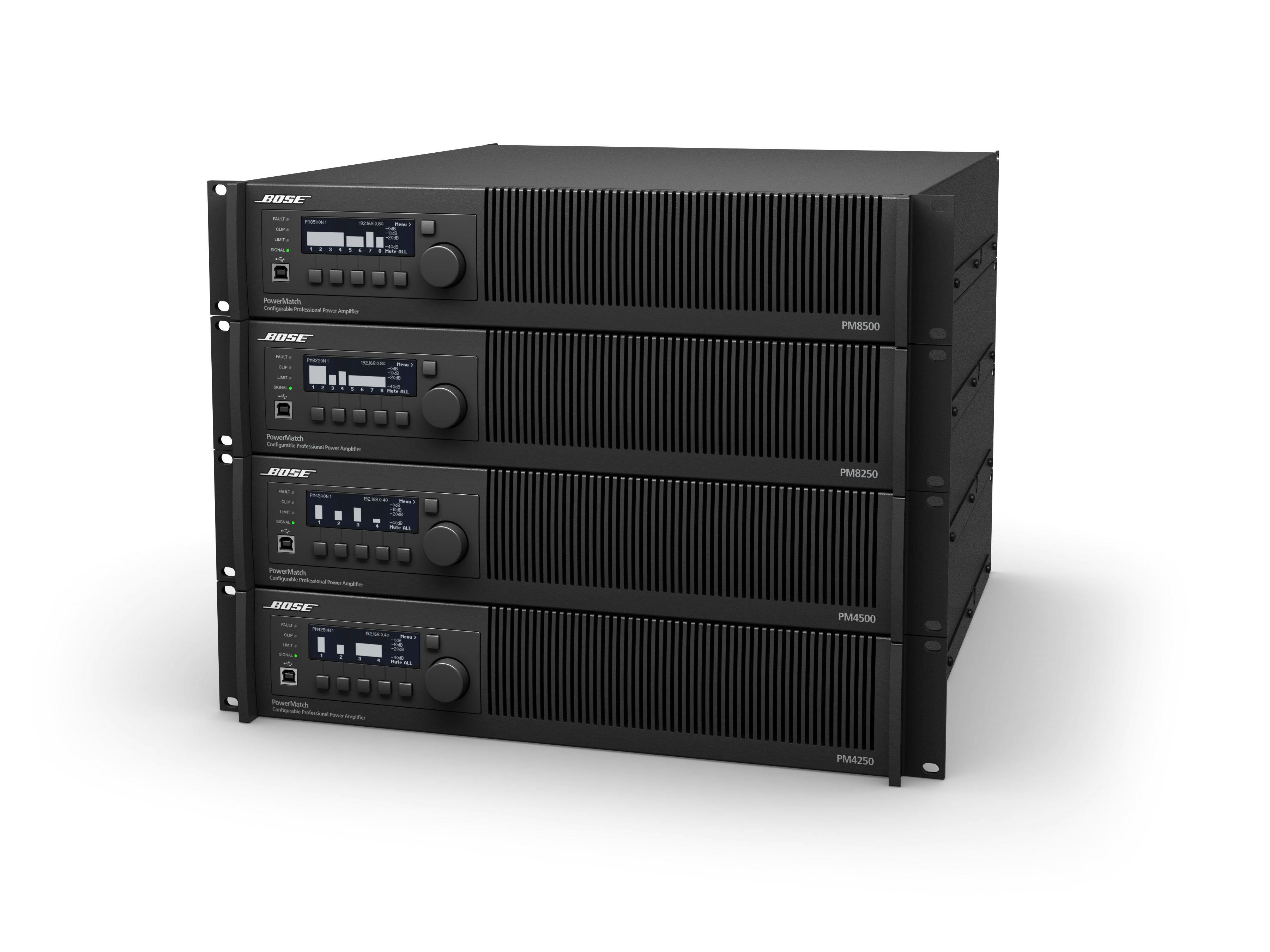 Advanced, proven design with superior sound.
The Bose PowerMatch line of configurable professional power amplifiers deliver premium sound for a wide variety of fixed-installation sound reinforcement systems. 
Engineers at Bose used several proprietary technologies to develop PowerMatch amplifiers with the best possible tonal balance for the demanding needs of live performances. 
The PeakBank power supply with fast-tracking Power Factor Correction (PFC), together with a sophisticated dual voltage and current feedback circuit, enable PowerMatch amplifiers to safely and efficiently manage the current drawn from the AC mains. This system gives the amplifiers the capability to run continuously at full power when driving real-world program material – all without fluctuation or reduction of available power.
The result? A redesigned Class-D amplifier with premium Class-AB performance, delivering a combination of wide dynamic range, flat frequency response, low distortion, outstanding transient response and bass reproduction – regardless of the amplifier configuration, loudspeaker load or output level.
Multiple channel and power options.
PowerMatch amplifiers are uniquely flexible, offering output channel configurability over a total of four different models with different channel counts and power capabilities. 
Since output power can be combined among output channels and drive a range of loudspeaker loads, 2/4/8 ohm 
and 70/100V distribution lines (in bridged operation), customers can simplify their product selection around channel count and total power requirements, making for easier system design and installation. 
An integrated DSP with loudspeaker processing provides analog/digital audio routing, loudspeaker and room EQ, crossover, delay and limiting. A subset of parameters can be configured from the front panel with full access to 
parameters via a USB connection with Bose ControlSpace® Designer™ software running on a PC. 
Network amplifier versions allow system- wide control and monitoring of multiple amplifiers, direct use with ControlSpace CC-64 control centers, and the capability to communicate with control systems. A digital expansion slot creates an interface for use with optional Bose ESPLink or digital audio networking cards.
More than just a power amplifier.
From project design to installation and implementation, Bose PowerMatch amplifiers are loaded with features to 
assist in the process, even well beyond the project finish date.
System troubleshooting is built into PowerMatch amplifiers via a set of remote monitoring and fault reporting 
utilities. Issues logged by the amplifier, such as power line and loudspeaker wiring faults, are reported on the front panel. 
Reporting can also be accomplished via an Ethernet connection with Bose ControlSpace Designer software or using 
Serial over Ethernet with third-party control and monitoring systems. 
In addition, a convenient load sweep tool can measure and store the load impedance of each output for system 
diagnostic and documentation purposes. 
Password protection of all settings with front-panel lockout allows the system to be secure from unauthorized 
tampering, and a unique internal airflow design minimizes fan noise and dust capture without the use of filters, making the amplifier more reliable with less service required.
ControlSpace Designer Software for RoomMatch array module loudspeakers.
ControlSpace Designer software is a graphical user interface tool for the design, configuration and control of systems consisting of ESP-88/00, PowerMatch configurable professional amplifiers and Bose control centers. ControlSpace Designer also configures the power output of PowerMatch amplifiers. 
 
The latest version of ControlSpace software can set up and configure all PowerMatch amplifier models using the front-panel USB for one-to-one setup. Plus, the networked versions of PowerMatch allow Ethernet connections for complete network setup and control. For backup, all major configurations may be set up using the front-panel controls without requiring a PC connection. A "lock out" code can be set from either the front panel or ControlSpace software to prevent unauthorized changes.