Mode EVS-RP-16-18 Evolution Slave Relay Pack (18 Channels of 16 Amps Switching Only)Mode EVS-RP-16-18 Evolution Slave Relay Pack (18 Channels of 16 Amps Switching Only)
- EIGHTEEN CHANNELS of 16 Amps 
resistive or inductive loads, switching.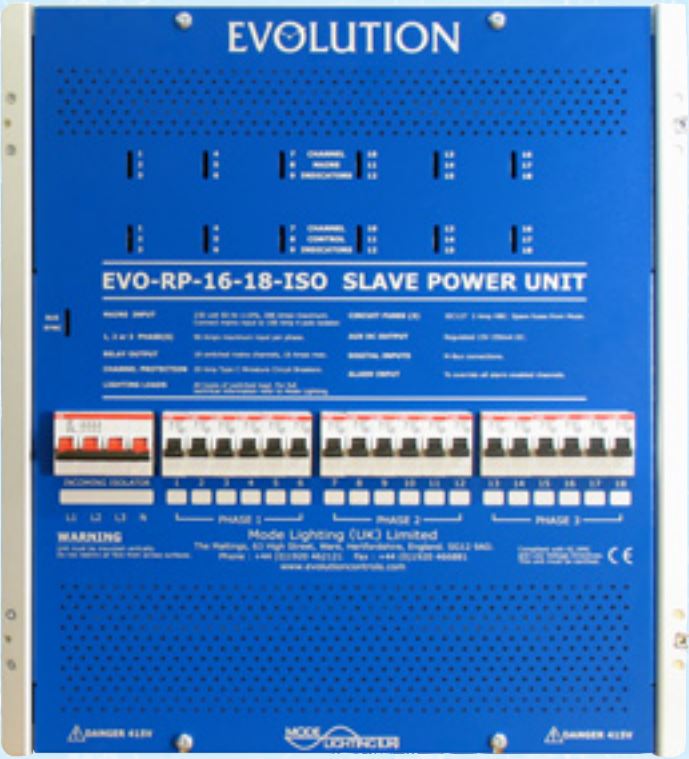 - FULLY CONFIGURABLE switching 
ripple.
- INTELLIGENT SELF MONITORING 
power supply.
- INDIVIDUAL CHANNEL OVERRIDE 
switches for fast installation and testing.
- CIRCUIT PROTECTION: individual 20 
Amp Type C MCB for each channel.
- EMERGENCY OUTPUTS (1 per 
phase) fixed live MCB protected outputs 
for maintained emergency supplies.
- THREE-PHASE incoming mains and 
neutral Isolator.
- SUPPLY INPUT 200-250 Volt 50-60 Hz. 
Three phase.
- OPTIONAL Door.
- COMPLIES with EC EMC and Low 
Voltage Directives (CE).
- MODE products are guaranteed for two 
years.
The Evolution slave switching pack builds on the quality and reliability of Mode product designs and offers high 
specification power management in a mechanically, electrically and thermodynamically designed unit. 
Evolution is a versatile and highly configurable architectural control system designed for both lighting and peripheral 
management. Evolution is uniquely adaptable, making it an ideal choice for use in a vast number of applications 
including modern smart homes, shopping centres, restaurants, hotels, cruise ships, boardrooms, hospitality suites 
and offices.
All Mode products are guaranteed for a two year period.