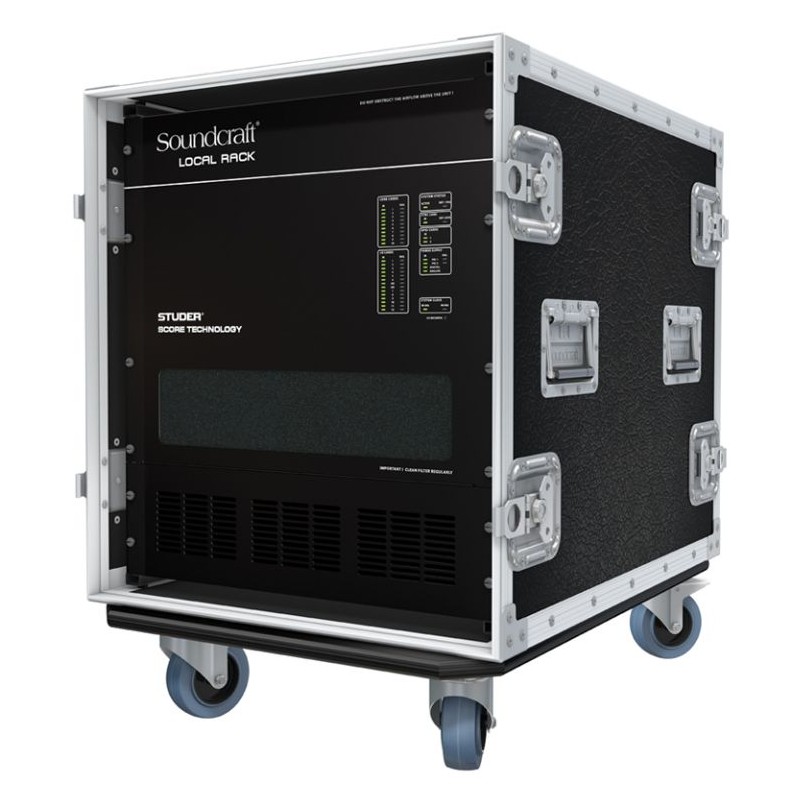  
Vi5000/7000 Local Rack - Full 96kHz Multimode Optical
Soundcraft Vi 7000/5000 Local Rack

- 128 inputs/32 stereo busses @ 48kHz (5 DSP cards)
- 64 inputs/32 stereo busses @ 96kHz (8 DSP cards)
The latest incarnation of the Local Rack boosts I/O up to 384 and is loaded with additional card slots to allow simultaneous use with two Stageboxes, 2 recording cards and the Realtime Rack MADI interface.
Various operating modes are available using a combination of DSP cards 
- 128 inputs/32 stereo busses @ 48kHz (5 DSP cards)
- 64 inputs/32 stereo busses @ 96kHz (8 DSP cards)
Cat5 or Cat7 cables with Amphenol RJF connectors provide a convenient, highly robust connection between the Soundcraft Vi Series™ stageboxes and local rack enabling the mixing position to be located up to 100 metres from the stage. And in larger venues and installations, an optional Fibre Optic interface allows a run of up to 1.5 kilometres between the stagebox and the local rack.
A comprehensive provision of inputs and outputs can be patched to any channel input, direct output, bus output or insert point as required.
The local rack has 16 analogue line inputs, 3 analogue mic/line inputs, a talkback mic input (mounted on the control surface) and 8 pairs of AES/EBU inputs. Outputs include 16 analogue line, 8 pairs of AES/EBU, 3 LCR local monitor A line, 2 LR local monitor B line and TB line.
No customer reviews for the moment.