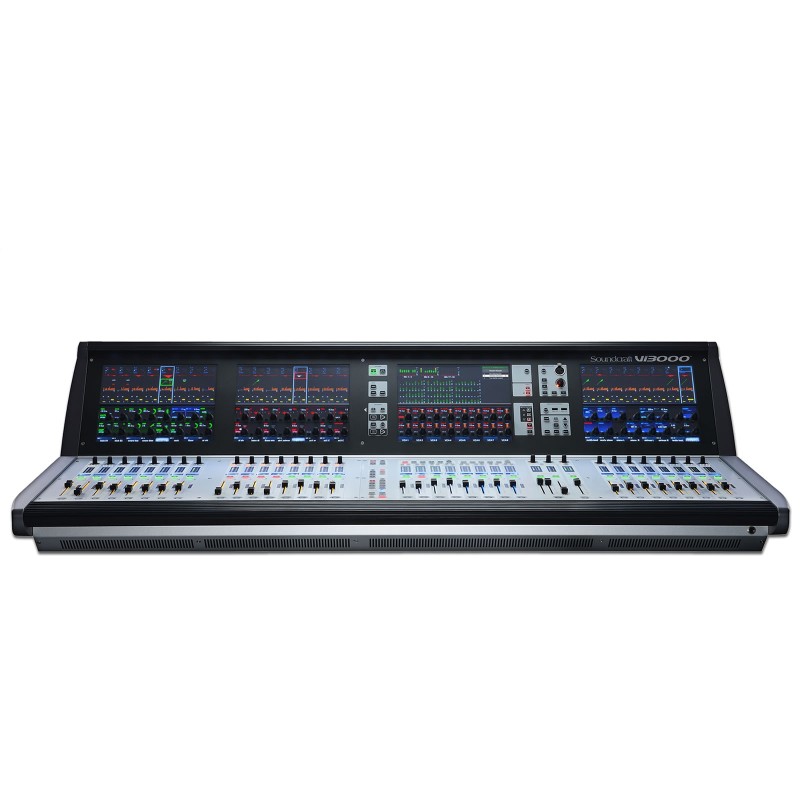  
Soundcraft Vi3000
Soundcraft Vi3000

Why mix through a single, central screen when you could see the full picture?

The new Soundcraft Vi3000 empowers engineers to work intuitively. 
Soundcraft Vi3000

Why mix through a single, central screen when you could see the full picture?

The new Soundcraft Vi3000 empowers engineers to work intuitively. A new 3D Vistonics interface places control knobs directly in the touch screens that provide the visual feedback, while FaderGlow fader track illumination makes perfect sense of assignable layers. With local I/O and SpiderCore DSP 'in the box', the Vi3000 packs a class-leading feature list including built-in Dante and MADI, Lexicon FX and optional UAD Powered Plug-in integration using the Soundcraft Realtime Rack.

The Vistonics interface is central to the Vi3000 design philosophy, providing direct access to all functions with maximum information and visibility at all times. 16 switches and rotary encoders are built into each Vistonics screen, so where you look is where you control. Functions are colour-coded and change according to the selected mode and one touch of the screen is all it takes.

FaderGlow™ is a unique and elegant solution to the inevitable confusion caused by assignable faders. Fader tracks are illuminated in colours that integrate with the Vistonics screens to provide at-a-glance information. Matrix outputs, sends on fader, VCA groups, graphics EQ - you'll always know exactly what function is being controlled by what fader at any given time. And with all fear on confusion removed, operators are free to take full advantage of Vi3000's user-configurable fader layers, mapping essential channels to a central position and customising outputs for convenient operation.

The Vi3000 is a console with friends in high places. Sound quality is assured by Soundcraft SpiderCore - a brand new 40-bit floating point DSP engine that mixes FPGA and DSP technology in a unique combination that maximises IO routing and DSP mixing capability in a footprint small enough for inclusion within a control surface. FX come courtesy of 4 independent stereo Lexicon multi effects units., each providing a choice of 14 reverbs, 7 delays and 8 pitch shifting effects, patchable to input channels, aux outputs and channel inserts. BSS third-octave Graphic EQ is available on every bus output, with fader bays illuminating in red to indicate GEQ mode.

Vi3000 gives you everything you need integrate into Dante audio networks and access DAWs for live multitrack recording and virtual soundchecking via MADI. MIDI, USB and Ethernet ports are also included, along with a DVI output and 4 channels of AES I/O. Uninterrupted performance is assured by dual redundant PSUs.

With up to 48 on-board mic inputs, Vi3000 is happy to work with existing analogue multicore systems. Also available is an optional remote stagebox housing 64 analogue mic/line inputs and 32 analogue line outputs, with 48V phantom power and a 100Hz HPF before the A-D converters. Mic amp gain can be controlled remotely from the console surface.

Two ports on the Vi3000's rear panel open up a world of possibilities for I/O expansion and networking. Simply choose from the most comprehensive range of expansion cards in the business.

Key Features


96 inputs to mix
Four Lexicon FX processors
24 mono/stereo busses
Virtual Vi offline set up
VM2 radio mic status monitoring
Copy/Paste channel bus and FX settings
Copy/Paste processing elements
Settings Library
Sophisticated Cue List Management
Advanced events integration
Automated microphone mixing
Snapshot crossfades
ViSi Remote iPad app
All busses to stereo
4 Aux send points
Aux VCA mode

Specifications

EQ (Inputs and Bus Outputs)
HF 20Hz-20kHz, +/-18dB, Q= 0.3-8.7 or shelving
Hi-Mid 20Hz-20kHz, +/-18dB, Q=0.3-8.7
Lo-Mid 20Hz-20kHz, +/-18dB, Q=0.3-8.7
LF 20Hz-20kHz, +/-18dB, Q= 0.3-8.7 or shelving
Metering Internal 20-segment LED bargraphs plus 9-segment gain reduction meters for all inputs and Outputs. Peak hold variable from 0-2s.
Mains Voltage Operating Range 90-264V, 47-63Hz, auto-ranging
Mains Power Consumption 300W

Temperature/Humidity Range
Operating Temperature Range 0?C ? 45?C (32?F ? 113?F)
Relative Humidity 0% ? 90%, non-condensing Ta=40?C (104?F)
Storage Temperature Range -20?C ? 60?C (-4?F ? 140?F)

Frequency Response
Stagebox Mic input to Line output +0/-1dB, 20Hz-20kHz
AES/EBU In to AES/EBU Out +0/-0.2dB, 20Hz-20kHz

T.H.D. & Noise
(22Hz-22kHz)
Stagebox Mic In (min gain) to Local Line Out <0.003% @ 1kHz
Stagebox Mic In (max gain) to Local Line Out <0.020% @ 1kHz
Local Line In to Line Out <0.003% @ 1kHz
Mic Input E.I.N. <-126dBu (150? source), 22Hz-22kHz bandwidth, unweighted
Residual Noise -91dBu (Stagebox line output; no inputs routed, Mix fader @0dB)
CMRR, Stagebox Mic input 80dB @ 1kHz
Sampling Frequency 48kHz

Latency
Stagebox Mic Input to Local Line output < 2ms @48kHz
AES/EBU Input Sample Rate 32?108kHz (with SRC enabled)
DSP Resolution 40-bit floating point
Internal Clock Accuracy < +/- 50ppm
Internal Clock Jitter < +/- 5ns
External Sync BNC Wordclock

Input & Output Levels
Mic Inputs +28dBu max
Line Inputs +22dBu max
Line Outputs +22dBu max
Nominal Operating Level +4dBu (-18dBFS)

Input & Output Impedances
Mic Inputs 2k7?
All other analogue Inputs >10k?
Line Outputs <75?
AES/EBU Outputs 110?
Oscillator 20Hz to 20kHz/Pink/White Noise, variable level
Stagebox HP Filter 80Hz fixed, 12dB per octave
Channel HP Filter 20Hz-600Hz, 18dB per octave
Channel LP Filter 1kHz-20kHz, 18dB per octave
No customer reviews for the moment.