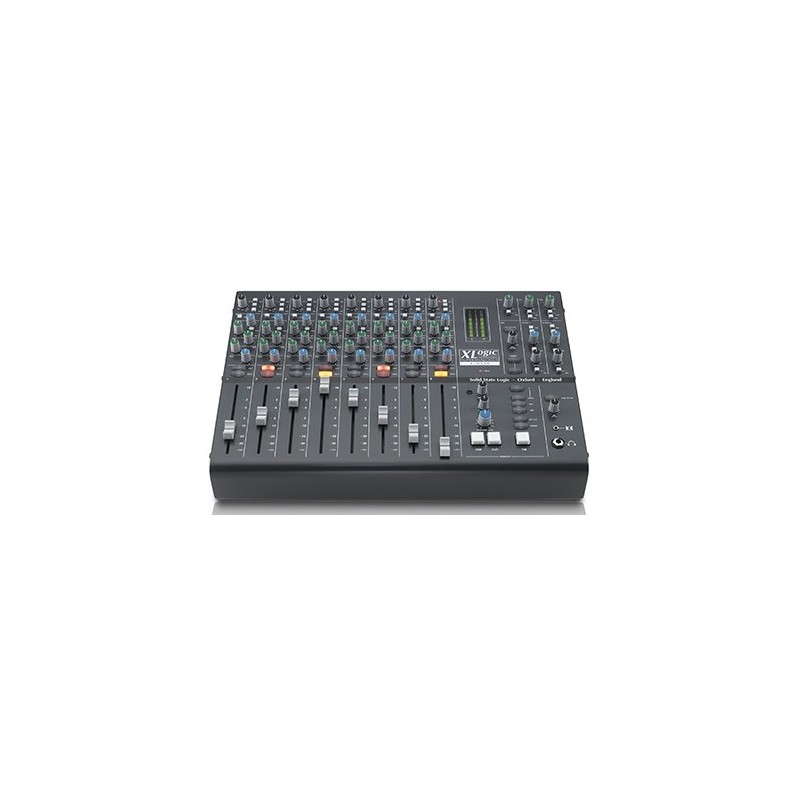  
Solid State Logic XL-Desk
The mini SSL for your personal studio
X-Desk

The centre of your scalable studio

Built from the same SuperAnalogue DNA as our AWS, Duality and Matrix consoles, we are proud to deliver the X-Desk.

Meeting the demand for a world class, compact SSL mixing desk, X-Desk combines a 16 channel SSL SuperAnalogue summing mixer with a compact analogue audio hub for your studio. Small enough to be easily transported, X-Desk fulfills all the essentials of the audio mixing process, with typical SSL attention to detail and depth, including smooth 100mm faders, comprehensive artist & studio monitoring with Dim & Cut buttons, Stereo and Mono Aux sends, channel and Master Bus Inserts and accurate bar graph level metering.

For easy integration into your existing studio, X-Desk can be used as an elegant and and ergonomically refined desktop mixer with removable rack ears for standard 19" rack mounting (7U space required). Like all SSL SuperAnalogue products, it is extremely robust, hand-built in the UK with an all metal chassis and high quality controls and components. Up to eight X-Desks or X-Desk & X-Rack combinations can be cascaded via D-Sub connection to expand up to 160 inputs on mixdown.

X-Desk brings benchmark audio performance to the compact mixer format.

Key Features:
SuperAnalogue - analogue purity at the highest level
8x dual input Mono Line channels: 16 channel mixdown
8x Insert Send/Returns on channels
Stereo CUE and 2 Mono Auxiliary Sends
Cascade with X-Rack and other X-Desks for bigger systems
Talkback - for artist communication
Dim & Cut buttons
Independent Main and Alternate stereo monitor outputs
SSL Stereo Mix Bus with External summing and Inserts
2x Stereo Returns with Level, Pan and Bus assignment
iJack front panel input for portable playback devices
High quality internal PSU
D-Sub Channel I/O connection for studio integration
19" Rack mount ears included
No customer reviews for the moment.