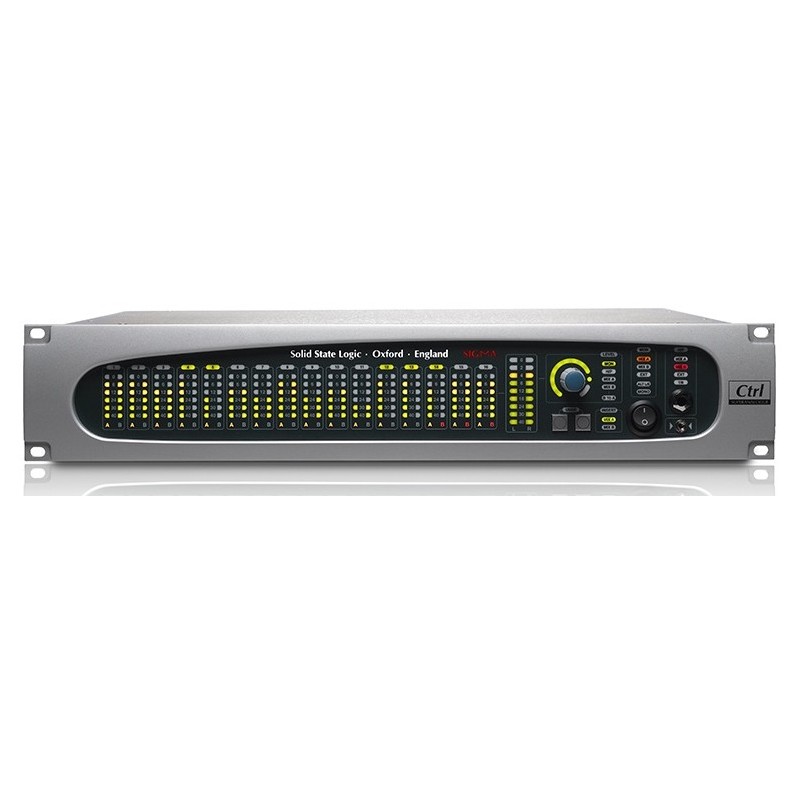  
Solid State Logic Sigma Delta
Remote Controlled Analogue Summing
Sigma

Remote Controlled Analogue Summing

Designed for the DAW user that seeks the legendary big sound of an SSL console while retaining the convenience of working in the box, Sigma is a unique DAW automated SuperAnalogue summing engine.

Sigma seamlessly brings the analogue joy of mixing on an SSL console into your DAW dominated workflow. Using MDAC technology unique to SSL, Sigma takes the SuperAnalogue mix buss from SSL's Duality and AWS consoles and delivers it in a 2U rack design, with complete remote control of the analogue signal path, using a hardware control surface and/or volume automation written inside your DAW. Now anyone who can drive a DAW can mix on an SSL.

Consistent feedback from the world's leading producers demonstrates that analogue summing still brings a record together in a special way that no emulation plug-in can match. Sigma and SSL's no-compromise approach to designing audio circuits, delivers summing with an extended low-end frequency response, wide stereo imaging, clarity, depth and detail. When it comes to sonic tone and character many leading engineers state that a significant part of their 'sound' is the magic that happens when you drive the analogue mix buss of a console a little too hard...that delicate cohesive distortion only a pushed analogue mix buss brings their mixes. This is exactly the case with Sigma. It is at its best when pushed to that "sweet spot", to the point where it yields that extra sonic dimension which has always been part of the legendary SSL sound.

Sigma combines its true analogue tone and depth with complete integration into a DAW dominated workflow. In today's commercial environment, fast turnaround of productions, with multiple mix tweaks and revisions, engineers and producers depend upon instant recall of all their settings. Sigma meets this demand. As Sigma's levels are driven from your DAW, the mix recalls instantly upon session load. Furthermore, every setting on Sigma itself (Mix Buss routing, monitoring section and settings) can be saved and recalled at the click of a button.

Sigma also features a dual output monitor and headphone switcher and talkback system which is completely remote controllable. Sigma is set up using a cross platform, tablet ready html 5 software browser that offers comprehensive configuration controls. Running on an iPad or other tablet the browser also performs as a superb remote control for the monitor switcher/talkback.

Key Features:
Advanced DAW automation driven SSL SuperAnalogue mix engine
Works with all major DAW's including Pro Tools, Logic, Cubase/Nuendo, Ableton Live
16 flexible channels individually switchable between stereo or mono for up to 32 channels at mixdown
2 stereo mix busses with individual stereo insert points
Independent Main and Alternate Monitor outputs
Direct outputs on all channels
Talkback facility with adjustable Dim level
Intuitive cross platform set-up and configuration software interface
High speed External MIDI control via single Ethernet cable
No customer reviews for the moment.