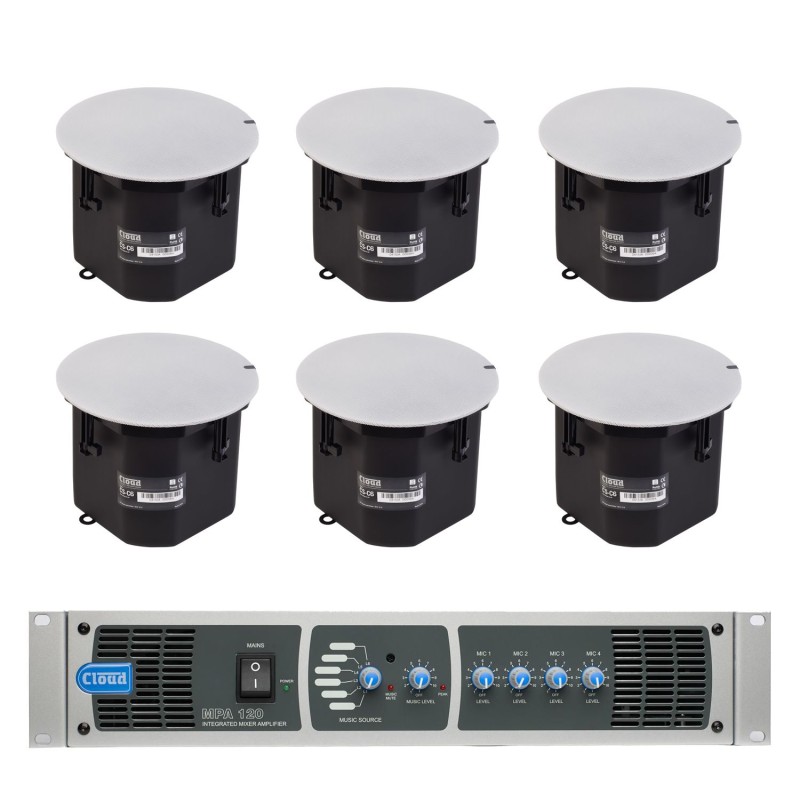  
Cloud MPA120-SP Speaker System 6x CS-C6 Ceiling Mounted Speakers with Mixer Amplifier 120W 6 Line Inputs 4 Mic Inputs
Cloud MPA120-SP Speaker System
6 x CS-C6 Ceiling Mounted Speakers
Mixer Amplifier 120W
6 Line Inputs 4 Mic Inputs
Remote Volume and Select
​
Cloud MPA120-SP Speaker System -  6 x CS-C6 Ceiling Mounted Speakers with Mixer Amplifier 120W 6 Line Inputs 4 Mic Inputs Single Zone with Remote Volume and Select Facility Port

​
The increase in demand for higher quality mixed impedance output amplifiers for general installer applications has instigated the launch of Cloud Electronics new MPA Series. 6 line + 4 microphone inputs into a single zone with configurable 25/70 or 100V internal transformer plus the industry standard wall mount remote controllers (RL1 & RSL6) make the MPA Series the most flexible and reliable installer amps in the market.
Product Features:
6 line inputs, stereo inputs summed to mono
Line inputs via RCA phonos with input gain controls adjacent to connectors
Source select via front panel rotary selector or remote via RSL6
Line input level via front panel control or remotely via RL1 or RSL6
Line 6 priority selectable by internal jumper, release time 3s/6s/12s selectable by internal jumper
Music EQ by tamperproof LF and HF presets on rear panel
4 Mic inputs, low impedance balanced via phoenix style connectors
Microphone EQ by tamperpoof LF and HF presets on rear panel
100Hz High Pass dedicated filter on Mic inputs
Phantom power selected by internal jumper for each microphone
Limiter dedicated to microphone inputs
Mic 1 has access triggered priority over Mics 2-4
All Mics have VOX priority over music signals, providing 30dB of attenuation
Integrated chime triggered by access control of Mic 1
Compatible with Bose EQ Series IIS EQ Cards
Remote Music Mute configurable for NO or NC operation
Overall "Peak Limiter" with LED indication on front panel
Accessories:
RL-1 & RL-1A Remote Music Level Control
RSL-6 Remote Music Source Select
BOSE Loudspeaker EQ Card
EQ Cards for Amina AIWX & LFiT Loudspeakers
RSL-6B Remote Source / Volume Level Select Plate in Black
RSL-6W Remote Source / Volume Level Select Plate in White
RL-1B Remote Volume Level Control Plate in Black
RL-1W Remote Volume Level Control Plate in White
RL-1MW Remote Volume Level Media Control Plate in White
XLR-F1B XLR Input Module - Black - Female
XLR-F1W XLR Input Module - White - Female
XLR-M1B XLR Input Module - Black - Male
XLR-M1W XLR Input Module - White - Male
RSL-6MW Remote Source / Volume Select Media Plate in White
RL-1MB Remote Volume Level Media Control Plate in Black
RSL-6MB Remote Source / Volume Select Media Plate in Black
PM1 Paging Microphones
6x Cloud CS-C6W White or CS-C6B Black 50W 100V Line Ceiling Speaker
The Cloud CS-C6 In-Ceiling Speaker is a 6-inch coaxial two-way loudspeaker featuring exceptional intelligibility and musical performance. Using premium drivers and electronics, the CS-C6 offers high sensitivity, smooth frequency response and excellent off-axis performance. All models offer ZeroEdge magnetic grilles which reveal the high/low impedance switch settings for distributed audio systems.
Features
2-way concentrically mounted drivers offering consistent dispersion across broad frequency ranges.
6.5" Treated Paper Woofer with Rubber Surround
1" Silk Dome Tweeter with phase plug
Deep backcan design (200mm)
Magnetic speaker grilles available in Black or White.
Accessible high-impedance or low impedance switch settings.
Removable logos to allow for discrete use. 
100v - 32W, 16W, 8W, 4W or 50W  
70v - 32W, 16W, 8W, 4W, 2W or 50W
25v - 4W, 2W, 1W, 0.5W, 0.3W or 50W
Nom SPL: 88dB@1mt Max SPL: 105db@1mt.
Optional Tile Bridge.
Dims: 286.0mm x 210.2mm.
Weight: 3.3kg net, 4.1kg gross.
Cutout: 271.0mm

Data sheet
Product Category Feature

Sound

Price Unit

Each

Condition

new

Availability

in stock

Audio Product Type

Mixer Amplifier

Brand

Cloud

Manufacturer

Cloud

Speaker Type

Passive 100V or 70V Line Speaker

Speaker Mount Type

Ceiling Mount Speakers

Speaker Continuous Power Handling Wattage (W)

32W

Colour

Grey/Blue

Number of Input Channels

6 Stereo and 4 Mic

Number of Output Channels

Single Channel

Wattage per Channel (W)

120W

Output Line Voltage

Low Impedance

Total Power Wattage (W)

120

Product Rack Height

2U
Specific References
EAN13

3418940302943
No customer reviews for the moment.