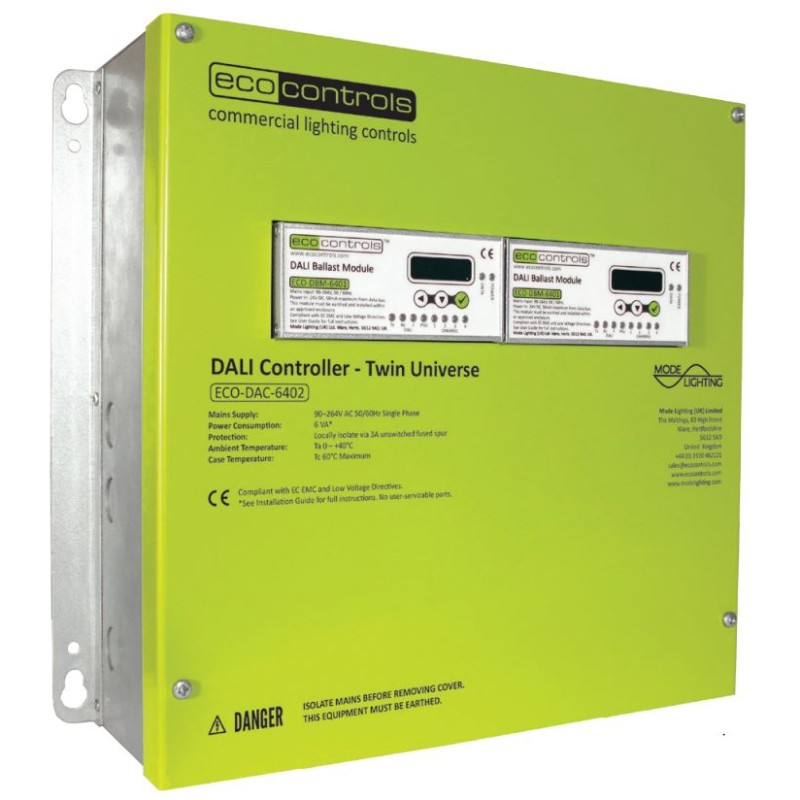  
Mode ECO-DAC-6402 DALI Controller - Twin (Two DALI Universes)
Mode ECO-DAC-6402 DALI Controller - Twin (Two DALI Universes)
Key Features
» Integral 250 mA DALI standard PSU per DALI 
Universe
» DALI short circuit and overload protection
Mode ECO-DAC-6402 DALI Controller - Twin (Two DALI Universes)
Key Features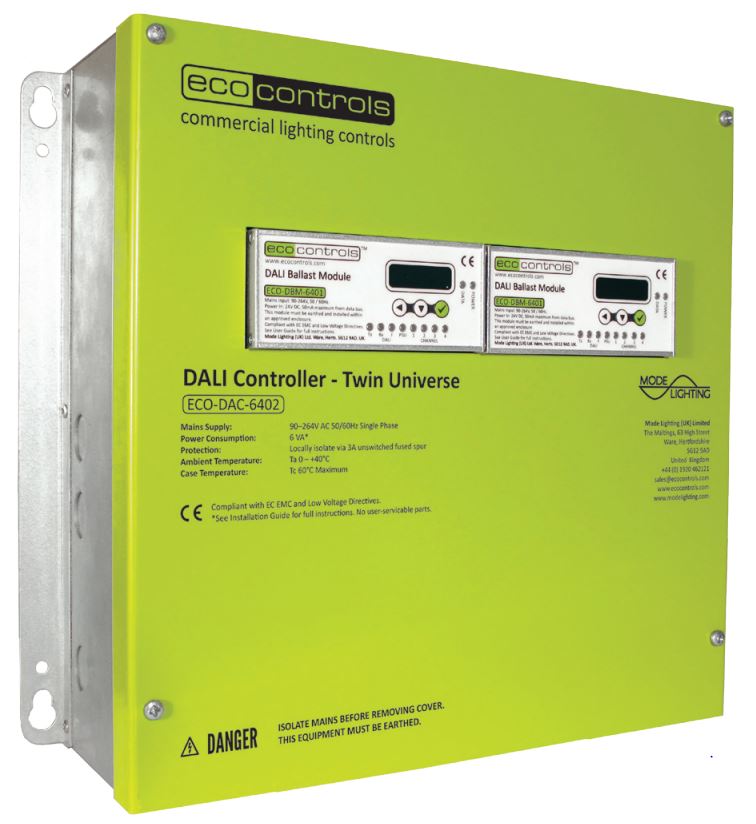 » Integral 250 mA DALI standard PSU per DALI
Universe
» DALI short circuit and overload protection
» M-BUS to a range of field based Control 
Devices such as MultiSensors, Switch Input 
Units, LCD and Multi-button Control Plates, 
Blinds Controllers and RS-232 Audio Visual 
Interface
» Configurable I/O provides connections for 
Letting Agent Switch, Zone Switches, Security 
System
» Installer pre-commission testing via the 
on-board display and keypad
» Non-volatile flash memory
» Ultra compact form factor 340 x 300mm
» Quick non-intrusive installation via external 
keyhole fixings
» 2 year warranty
The lighting within an installation is divided across 
one or more DALI Universes.
DALI ba
llasts/devices can be connected to the DALI 
control cable which is connected to and managed by 
the DALI Controller. 
Each DALI Ballast Module can control up to 64 
ballasts/devices as the primary means of luminaire 
control. This is further complimented with 4 
additional channels of individually configurable 
and addressable I/O for control of non-DALI 
lighting circuits such DSI or 0/1 – 10V, alternatively 
configured as inputs for volt-free contact, analogue 
or DSI.
DALI Controllers are connected to an Area Controller 
via the M-BUS network cable. The M-BUS provides 
the means of SELV communication between the 
Area Controller to Lighting Controllers and Control 
Devices.
No customer reviews for the moment.