PRP2 Twin 240V 3A relay pack for use with Podules, for screen control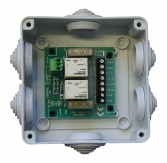 The PRP2 has been uniquley designed to work with the Wall 16, OCTO POD and RELAY POD, allowing them to control an electric projector screen or any other mains voltage device.
The PRP2 gets its input power (24V) and control signals via the PODs V plus and Open Collector outputs. A detachable screw terminal connector in the PRP2 is used to connect directly to these connections.++++
Fixed screw terminals are provided to connect to the external mains connection and the screen connection.
LED's are provided to indicte the status of the unit allowing easy testing of the unit.
The PRP2 board is mounted in a IP55 rated enclosure is designed to be surface mounted on a flat surface removing the cover it will be seen that there are four easliy accessible mounting holes.