Chrono-Pod 2 - PC to PodNet Interface with real time clock for timer events.
Chrono Podule is a 24 hour, 365 day event timer that interfaces seamlessly with a PodNet based system to give full automatic functionality. The unit can also be used stand-alone to provide RS232 messages, ideal for auto shutdown / start-up for point of sale displays and electronic signage.
It also has a power LED to indicate when power has been connected either directly or by PODNET, and a RX / TX LED to indicate when the unit is transmiting it's RS232 commands.
As it is normally used as part of an system with other Podules a separate power supply is not included.
Features: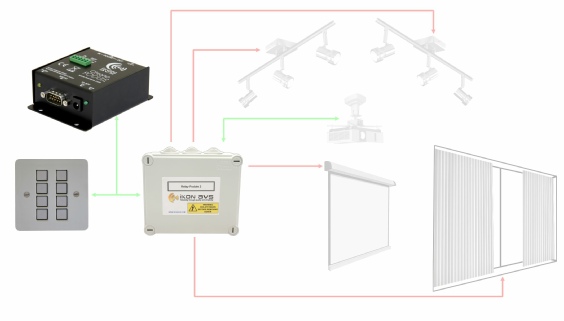 - 32 timed events adjustable by the second, hour, day , week, month and year.
- Events can be one shot of On/Off with variable duration.
- Bi-directional RS232 Port
- PodNet for easy system expansion
Specifications:
Hardware devices
1 x Bi-directional RS232 Port
1 x PodNet
Software devices
32 x Timed events
8 x Timers
16 x Logic Gates
16 x Flip-Flops
24 x RS232 input messages
64 x RS232 output messages
64 x PodNet input messages
64 x PodNet output messages
Power requirements (directly power or via PodNet) 10-48V DC, 60mA @ 24V.
Size = 67mm x 38mm x80mm, Net weight = 100g