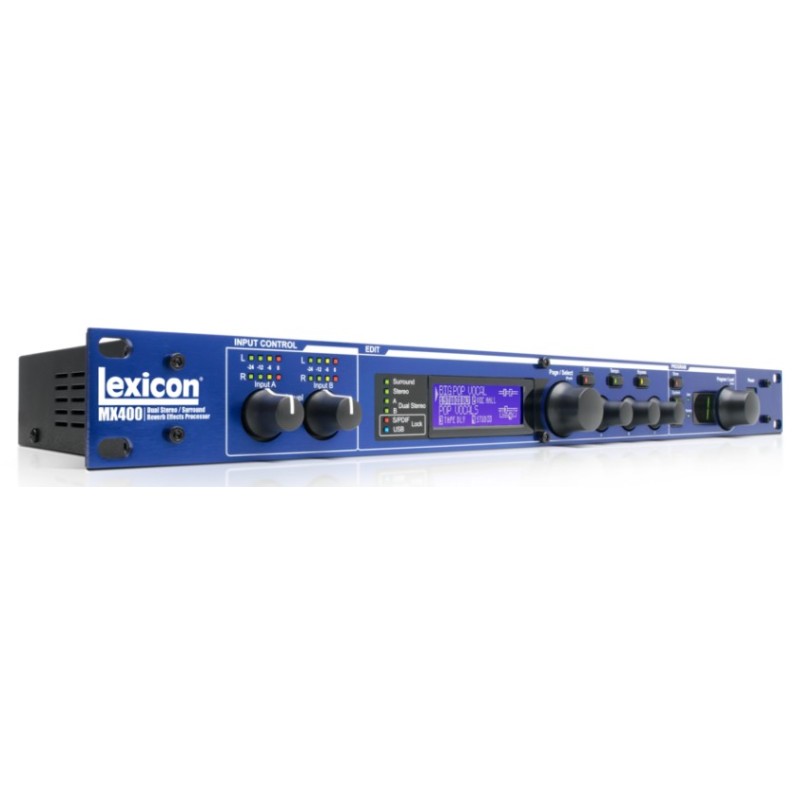  
Lexicon Pro MX400
4-in/4-out Reverb/Effects Processor with USB "Hardware Plug-In" Capability
MX400

Plug-in programming and recall with the power of Lexicon hardware.

You want the rich, luscious sound that's defined studio reverb for three decades: a genuine Lexicon hardware processor. But you also want the flexibility of programming high-quality effects right inside your DAW program…without bogging down your CPU or resorting to expensive processing cards.

Have it all with the MX400. All parameters of every reverb, delay and dynamic effect in this powerhouse quad processor are available inside any AU compatible DAW program. Just link your computer to the MX400 with a USB cable and control all automation and recall parameters exactly as you would with any software plug-in — while enjoying the sonic benefits only Lexicon hardware can provide.

Along with our unique "hardware plug-ins" for PC and Mac (32-bit only), we've also included MX-Edit Librarian software so you can store and recall custom programs or pull up your choice of 223 genuine Lexicon settings including 25 dedicated Surround Programs. At its heart, the MX400 is everything you would expect from the company that invented digital reverberation. Seventeen Lexicon reverbs, delays and modulation effects plus dbx compression and de-essing. A generous LCD display and big comfy knobs you can get your hands around.

Get a demo at your Lexicon dealer. And then get on the road to creating a hit.
4-IN/4-OUT VERSATILITY, HANDS-ON CONTROL & ROAD-RUGGED CONSTRUCTION.
Meet the most Lexicon power ever offered in a super-affordable 1RU effects processor. Perfect for band PAs, churches and clubs.

We know you need to be able to make changes quickly, so we designed the MX400's intuitive front panel to be a bare minimum of knob tweaks away from any adjustment or effects change. For example, three individual, assignable parameter controls mean you don't have to page through menus to fine tune a reverb tail. Because you can use its built-in dbx® compression and de-essing in tandem with reverb, the MX400 is the perfect tool for taming problem vocalists. Finally, you can rely on the MX400 for years to come, through countless load-ins and loadouts — although its sound is A-studio-quality, we designed the MX400 to withstand dust, moisture, shock, power surges and all the other rigors of live sound use.

The first time you ever heard reverb on an album track, chances are you were hearing Lexicon. We invented digital processing.

And we've been perfecting it for thirty years.
No customer reviews for the moment.