AK-10F Akwil P10 10mm Pitch LED Display Flexible LED Display Panel Solutions 320mm x 160mm
Flexible LED Display Panel Solutions
Akwil FLEXI LED Displays are high definition displays that are bendable and mouldable around almost any shape.
Its 8mm thick silicone rubber panel is so thin and light that it uses little space behind the display and dose not need a heavy support structure.
Akwil Flexi LED Video Displays offer the best curved creative freedom for fixed installation or rental application.
Above costs include LINSN Control Recievers and PSU's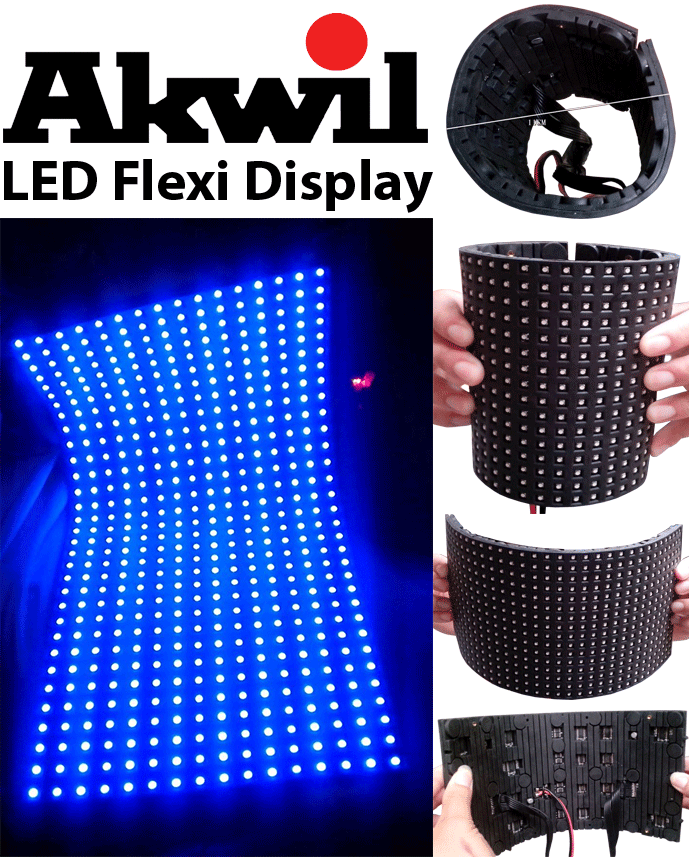 | | | |
| --- | --- | --- |
| Akwil Flexi Display | AK-10F  10mm Pitch | AK-6F 6mm Pitch |
| Pixel Pitch | 10mm | 6.67mm |
| Pixel Configuration | 3in1 SMD 3528 | 3in1 SMD 3528 |
| Module Resolution | 32 x 16 | 48 x 24 |
| Module Size | 512 | 1152 |
| Pixel Density | 10,000 pixels/m sq | 25,000 pixels/m sq |
| Recomended Minimum Viewing Distance | 10m | 6m |
| Brightness | >1500cd/m sq | >2300cd/m sq |
| Colour Temperature | 8000k-10000k | 8000k-10000k |
| Contrast Ratio | 5000:1 | 5000:1 |
| Viewing Angle | H:120º / V:120º | H:120º / V:120º |
| Housing Material | Silicone Rubber | Silicone Rubber |
| Cabinet Weight | 0.42kg | 0.43kg |
| Colour | 14bits x RGB | 14bits x RGB |
| Greyscale (Linear) | 12 bits | 12 bits |
| Brightness Control | 100 Levels | 100 Levels |
| Video Frame Rate | 60Hz | 60Hz |
| Display Refresh Rate | >1200-2400Hz | >1200-2400Hz |
| Driving Method | 1/8 | 1/8 |
| Input Voltage (Nominal) | AC 110V-240V | AC 110V-240V |
| Input Power Frequency | 50-60 Hz | 50-60 Hz |
| Input Power Maximum | 350W/m sq | 750W/m sq |
| Input Power Average | 175W/m sq | 375W/m sq |
| Working Temperature | -20ºC- 40ºC | -20ºC- 40ºC |
| Storage Temperature | -35ºC- 85ºC | -35ºC- 85ºC |
| Working Humidity | 10% - 95% | 10% - 95% |
| Lifespan (50% Brightness) | >70,000 hrs | >70,000 hrs |
| Application | Indoor | Indoor |
| Maintenance Method | Rear | Rear |
| Price £ | £340 / Panel | £395 / Panel |