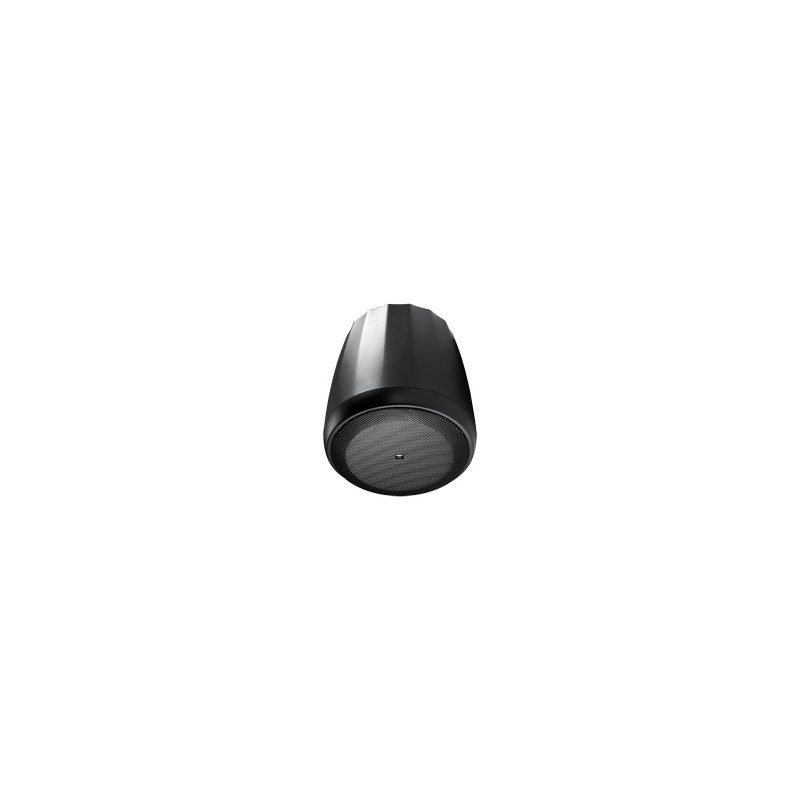  
JBL Control 67 P/T
Control 67 P/T
​
Extended Range Full-Range Pendant Speaker
Control 67P/T incorporates a large enclosure and high-power 6.5" (165 mm) transducer for extended bass and high-fidelity performance. The extra-large RBI Radiation Boundary Integrator provides outstanding patter
Control 67 P/T


Extended Range Full-Range Pendant Speaker
Control 67P/T incorporates a large enclosure and high-power 6.5" (165 mm) transducer for extended bass and high-fidelity performance. The extra-large RBI Radiation Boundary Integrator provides outstanding pattern control, which can allow fewer speakers to cover a venue.
FEATURES:
RBI Radiation Boundary Integrator Technology
120° conical coverage
6.5" (165 mm) low-frequency with silk-dome tweeter for high-fidelity sound quality
75 Watts, 8 ohms and 60W multi-tap transformer
Black or white
SPECIFICATIONS:
Frequency Response (-10 dB) - 58 Hz – 18 kHz
Frequency Range (±3 dB) - 78 Hz – 16 kHz
Power Capacity - 75 Watts Continuous Pink Noise Power (with 300 Watts peaks) and 150 Watts Continuous Program Power
Nominal Sensitivity - 90 dB
Nominal Coverage Angle - 120° (+20°/-15°)
Directivity (Q) - 5.7
Directivity Index (DI) - 7.5 dB
Rated Maximum SPL @ 1m - 109 dB continuous pink noise, 115 dB peak
Rated Impedance - 8 ohms
Transformer Taps - 70V: 60W, 30W, 15W & 7.5W and 100V: 60W, 30W, 15W
Transformer Insertion Loss - 0.5 dB @ 7.5 W, 0.5 dB @ 15 W, 0.6 dB @ 30 W, 0.7 dB @ 60 W
LF Driver - 165 mm (6.5 in) polypropylene-coated paper with pure butyl rubber surround, 25 mm (1 in) copper voice coil, vented fiberglass resin voice coil-former
HF Driver - 25 mm (1.0 in) textile soft-dome, neodymium magnet assembly, ferro-fluid cooling, aluminum voice coil former
Enclosure Material - High impact polystyrene
Grille - Zinc-plated steel grille with powder-coat finish, foam backing (removable for painting)
Environmental - Exceeds Mil Spec 810 for humidity, salt spray, temperature & UV. IP44 capability per IEC 529 – splashproof rating.
Termination - Two removable locking euro-block 2-pin connectors with screwdown terminals for bare wire. Connectors paralleled for input and loop-thru. Max. wire 12 AWG (2.5 mm2). Rubber terminal covers included.
Suspension - Two identical suspension systems (one as main suspension cable and the other as safety cable), each consisting of 4.5 m (15 ft) long 2 mm (0.077 in) high-tensile galvanized-steel wire rope suspension cable with spring-clips for clipping onto the loudspeaker bracket and Gripple brand adjustable-height cable fasteners for infinitely adjustable height. Cables have SWL rating of 45 kg (99 lb).
Safety Agency Ratings - Speaker listed per UL1480, transformer registered per UL1876. In accordance with IEC60849/EN60849. Suspension system and Gripple-brand cable fastener listed per UL1598 and UL2239, TUV, and CSA Class 3426-01 & Class 3426-81.
Dimensions - 312 mm (12.3 in) diameter x 330 mm (13.0 in) height to top of cabinet. 350 mm (13.8 in) to top of suspension bracket.
Net Weight (ea) - 5.2 kg (11.5 lbs)
Shipping Weight (pair) - 12.3 kg (27 lbs)
Included Accessories - Two suspension cable systems (see "Suspension", above), two 2-pin removable locking euro-block connectors, two rubber covers for euro-block connectors.
Optional Accessories - MTC-PC60 top panel / terminal cover
Colors - Available in black or white (-WH). Paintable.
No customer reviews for the moment.