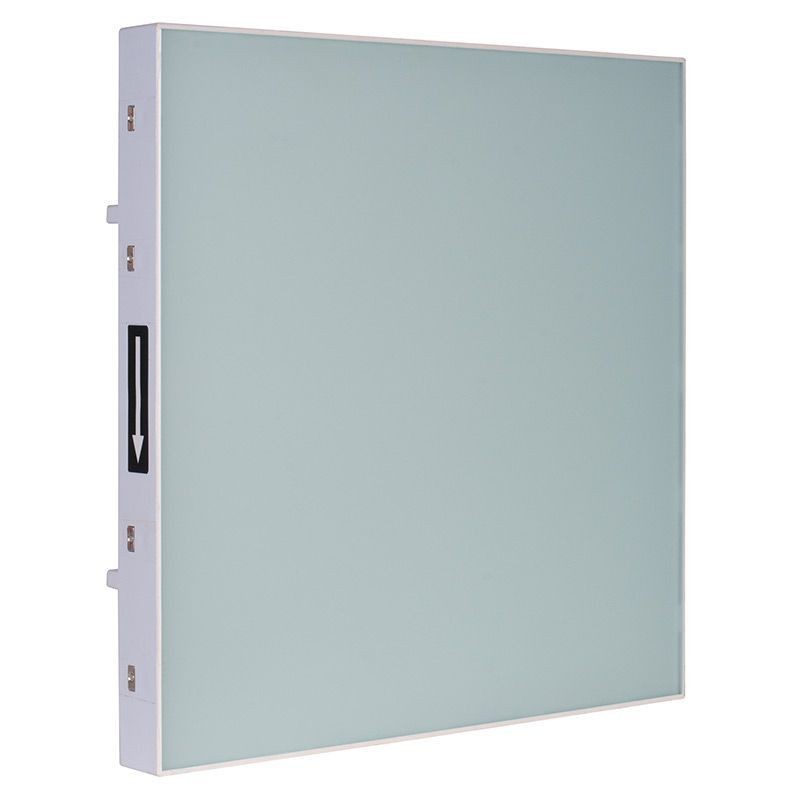  
LED DMX Magnetic Dance Floor 600mm x 600mm x 70mm
Light Source: RGB 3-IN-1 LED
Input Voltage: DC 24V
Max Power Consumption: 15W
Input Signal: DMX512 (3-Pin XLR)
Control Mode: DMX512 Console, SD Controller
DMX Channel Mode: 3, 5, 7, & 10 Channel Mode
Visual Angle: 160°
Brightness: High Brightness
Surface Material: Tempered Glass
The LED DMX Dance Floor is lightweight and extremely easy to setup portable LED dance floor solution. Each panel (MDF2) features an array of 3-in-1 RGB LEDs that cause its opaque tempered glass surface to glow intensely in an almost limitless selection of vibrant colors. With surface dimensions of 600mm x 600mm (23.62" x 23.62") and a low height of just 70mm (2.76"), the individual panels weigh just 26.57 lbs. (12.05 kgs.) yet can support a weight of up to 300 kgs/m2 (61.5 lbs/ft2) – more than enough for a dense crowd of party goers! 
The panels fit together together quickly and easily thanks to an innovative magnetic locking system as well as a convenient cable-free power and data transmission arrangement that connects adjacent units in a row. Power and DMX control is then supplied to each row via a dedicated power ramp (MDF2PR) which features 3-pin XLR input and output sockets alongside proprietary 4-pin 24V DC power connections. Power is supplied to the system by a choice of dedicated power supply units designed to supply different quantities of panels (9, 15, 20, 40, 117 or 156), while a complete range of accessories is also available. These include edging ramps (for the three other sides) and corner ramps as well as a dedicated 9 panel flight case and special tool for lifting panels from the middle of a dancefloor. 
Thanks to its easy-to-setup design, the MDF Series is ideal for temporary event use by mobile entertainment and event production companies. However, it is also suitable for permanent installation in nightclubs and bars looking to create a uniquely eye-catching dancefloor. The panels and accessories are all available individually, but can also be purchased in a complete pack of 9 panels (MDF433) complete with all cables, ramps and a flight case.


Light Source: RGB 3-IN-1 LED
Input Voltage: DC 24V
Max Power Consumption: 15W
Input Signal: DMX512 (3-Pin XLR)
Control Mode: DMX512 Console, SD Controller (With DMX, Sound Control, Audio
Control and Remote Control)
DMX Channel Mode: 3, 5, 7, & 10 Channel Mode
Visual Angle: 160°
Brightness: High Brightness
Surface Material: Tempered Glass
Base Material: ABS
Bearing Weight: 61.5 lbs./ft2 (300 kgs/m2)
Operating and Storage Temperatures: -4°F min. ~ 113°F max. (-20°C~45°C)
Single panel Dimensions (LxWxH): 23.62" x 23.62" x 2.76" / 600x600x70mm 
Single Panel Weight: 26.57 lbs./ 12.05 Kgs
ETL and CE Certified
Specific References
UPC

818651026627
No customer reviews for the moment.