LM-2W Line/Mic/Remote Mixer Module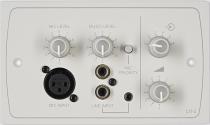 ​
The new Cloud LM-2 / LM-2A / LM-2D Active Wall Plate continues where the LM-1 began, with the addition of a 3.5mm stereo input socket on the front panel allowing easy connection of portable devices and two RJ45 (Cat-5) sockets on the rear panel. These new features are in addition to a microphone input with local level control, an RCA stereo input with level control and separate source selection / level control for the installed system (Z4 / Z8 MK3).
The first RJ45 (Cat-5) socket allows an LM-2 Active Wall Plate to be connected per zone to the Z4 / Z8 MK3 mixer via Screened Cat-5 cabling. The second RJ-45 (Cat-5) socket on the LM-2 allows a second LM-2 to be daisy chained using the LINK function to provide up to two local input plates per zone.
The LM-2 allows presenters in a seminar / conference suite application, fitness instructors in a fitness centre application or lecturers in a classroom situation to connect locally, directly to the installed system choosing priority or not over the installed sound system, to provide complete flexibility.
Product Features:
Inputs for Balanced Mic (XLR) and Stereo Line (Phone and/or 3.5mm Jack)
Individual Level Controls for Microphone and Music
Microphone can Override Music
Remote Control of Mixer's Music Source and Level
Link Extension Option via RJ45 to add another LM-2 per zone
RSL-6 Extension Option
3 Fittings - UK 2 Gang / "A" Ver - USA / "D" Ver - German
Black or White Finish
Related Products
Z4MK3 4 Zone Mixer
46-120Media 4 Zone Integrated Mixer Amplifier
46-120 4 Zone Integrated Mixer Amplifier
Z8MK3 8 Zone Mixer