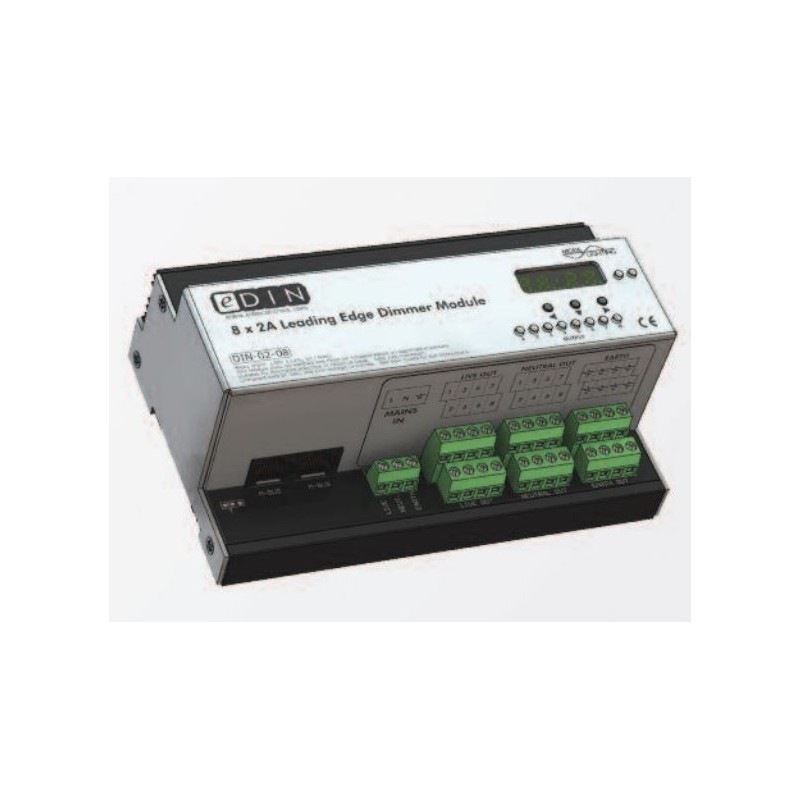  
Mode DIN-02-08 PLUS eDIN 8x2A Dimmer (8 channels of 2 Amps - Maximum Module Load 10A)
Mode DIN-02-08 PLUS eDIN 8x2A Dimmer (8 channels of 2 Amps - Maximum Module Load 10A)
An eight circuit dimmer module rated at 500W per circuit for 
the control of resistive and inductive lighting loads with the 
facility to select dimming or switched only operation of any 
circuit.

The Plus Model is the upgraded firmware model
Mode DIN-02-08 PLUS eDIN 8x2A Dimmer (8 channels of 2 Amps - Maximum Module Load 10A)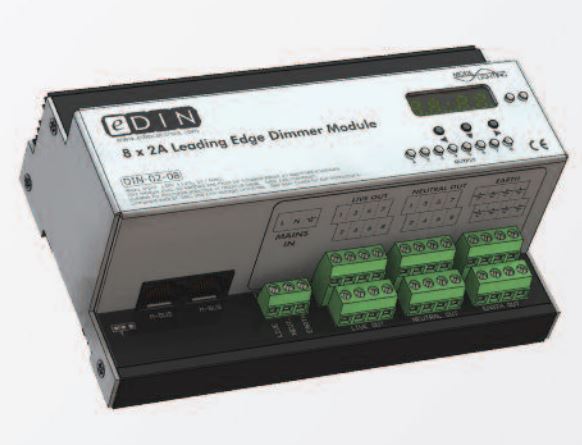 The Plus Model is the upgraded firmware model
An eight circuit dimmer module rated at 500W per circuit for 
the control of resistive and inductive lighting loads with the 
facility to select dimming or switched only operation of any 
circuit. A custom designed housing provides reliable power 
handling in a compact format.
- 8 x 500W Dimmer Module (total 10A maximum)
- Compact 9M width DIN Rail Mounting Module
- Selectable dimming or switching operation
- Programmable circuit Cap and Cup levels
- M-BUS enabled
- Low Load Compatible
- Operates resistive and inductive loads including 
low 
voltage electronic transformers (leading edge 
compatible type only)
- Energy Saving Display
- Quiet operation
- Can be installed as part of a 17th Edition Compliant 
installation
- Complies with EC EMC and Low Voltage Directives
- CE compliant
- ISO9001 certified design and manufacturing facility
Modules may be used in a standalone mode with 
simplified functionality providing programmable 
scene setting or Impulse (ON/OFF/DIM) type control 
from a single keypad. Alternatively conventional 
momentary switches can be linked to a contact Input 
Module (DIN-INT-00-08) to provide Impulse control 
of up to eight lighting circuits using eDIN Dimmer 
Modules.
An on-board menu system provides simple setup of 
circuit functions, maximum and minimum dimming 
levels, circuit test facility and power percentage 
monitoring. eDIN Dimmer modules may also be 
used in conjunction with a Network Processor Module 
to provide flexible, adaptable control for small 
to medium scale projects.
All eDIN Modules are M-BUS enabled and 
can be used with other Mode Lighting systems. 
This allows the flexible and compact eDIN 
Modules to be combined with the highly 
configurable Evolution System making 
Mode Lighting products the perfect choice 
for any scale of project.
eDIN Modules must be installed within a suitable surface 
mount enclosure with integral DIN rail. Installation must 
be carried out by a qualified electrician in accordance with 
the National Wiring Regulations and other applicable 
regulations. Compliance to EC EMC and Low Voltage 
Directives may be invalidated if not used or installed 
according to the published specification. 
eDIN Modules must be earthed.
Modules contain no user servicable parts and should not be 
opened.
No customer reviews for the moment.