60" Inch HD Bezel-Free 0.85mm Plasma Video Wall Display
- Superior picture quality and performance
- Infinitely Expandable Display
- 0.85mm Seamless Edge
- 1 Screen Resolution 1356 W x 768 H
- 4 Screens Resolution 2721 W x 1536 H
- 6 Screens Resolution 4069 W x 1536 H
                                or 2721 W x 2304 H
- 9 Screens Resolution 4069 W x 2304 H
The 60 Inch Bezel-Less Plasma is an expandable video wall with no limitation on size. With a virtually seamless design viewers are able to see larger images without screen distortion. This cutting edge plasma technology provides a larger, clearer and brighter image than previous video wall predecessors.
With an Ultra Narrow Edge of 0.85mm this solution offers a 180" Display, Higher than a 4K HD Resolution with 9 panels.
Slim Design - Total Thickness of 55mm depth allows efficient use of space.
Fast Responce Time - 0.001ms and 600Hz subfield driving technology displays fast moving HD pictures with zero motion blur and clear image quality.
Accurate Colour - Natural and accurate colour display
Infinitely Expandable Mutlivition - Expandable to any size
Can be utilised inconjunction with Akwil Multi Screen Management Systems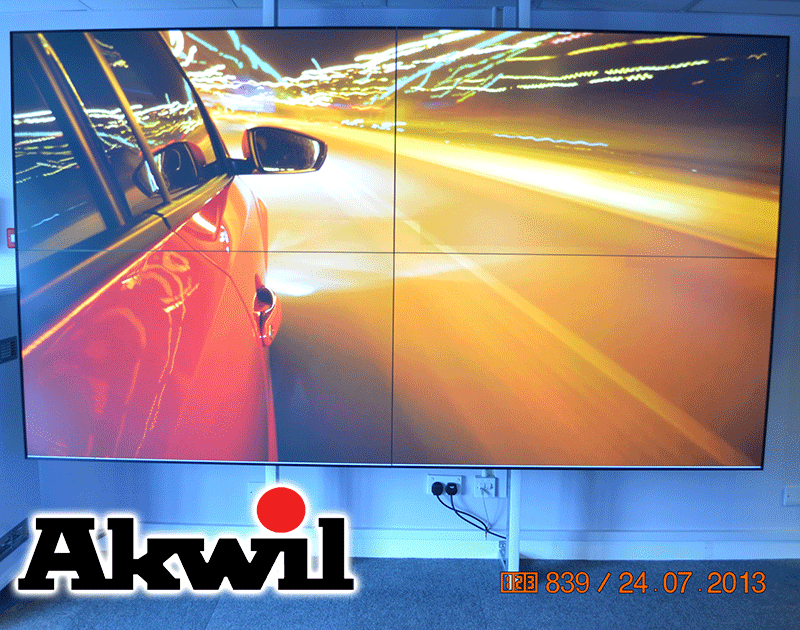 Technical Specification:
Screen Size - 60" (16:9)
Resolution - 1356 Horizontal x 768 Vertical
Peak Brightness - 700 (cd/m qu with AG Filter) / 1,700 (cd/m sq without Filter)
Contrast Ratio - Typical 1000000:1
Outline Dimentions (W x H x D) - 1322.1mm (W) x 745.6mm (H) x 55mm (D)
Input Voltage - 100V - 240V AC
Power Consumption - Typical 473W
Inputs - HDMI / RGB / DVI / RS232C / Display Port / Composite
Output - DVI / RS232 / Sound Out
USB - 1 (SVC only)
LAN (APL only) - 1
LAN (Network control) - 1
Function:
2 Modes (Standard/Studio)
Tile Mode (11x11)
Energy Saving Mode
Daisychain (DVI Max 9)
USP:
600 Hz Subfield Driving
Image Sticking (ISC)
Management Program (RS232C & Network Control)
Stand-By Power Consumption - 0.5W
DPM Power Management - 1W