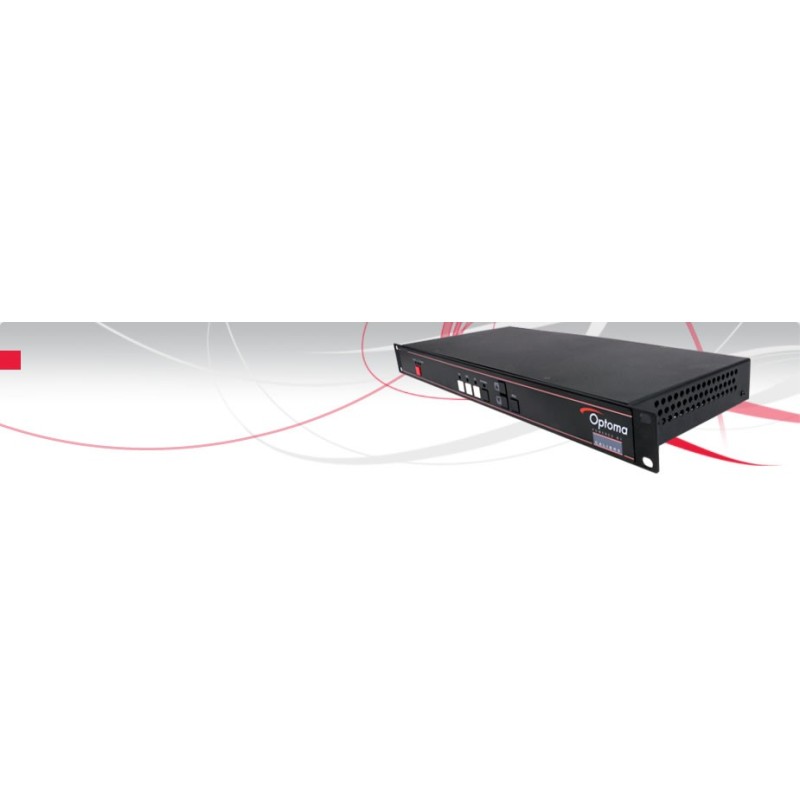  
Optoma HQView325
Optoma HQView325
Edge blending and warping
Ultra low latency
Black Level correction
Inputs include HDMI/DVI/VGA
Optoma HQView325
Edge blending and warping
Ultra low latency
Black Level correction
Inputs include HDMI/DVI/VGA
Edge blending explained
Some applications call for an image that is brighter and higher resolution than can be provided by one projector. In this situation a single image can be created from multiple projectors but unless done well the image will show visible bands where the projected images overlap
Edge-blending technology solves this problem by eliminating the visible banding and creating a single bright, high resolution image across the screen.
Edge blending multiple projectors in an array makes it possible to create very bright, high-resolution very wide projection displays. By using the HQView320/325 or HQView520/530 you can precisely control multiple, edge blended images seamlessly, quickly and easily.
Designed with the end-user applications in mind, the HQView Series let's you expertly edge-blend multiple, curved images seamlessly, on all four sides, for an unlimited number of projectors. Precisely control edge blended images and warp displays to fit almost any projection surface – flat or curved.
The Optoma Advantage
Traditionally blending solutions are time-consuming and complicated to set up with many incompatibilities between blending solutions and projectors. The Optoma blending solution removes this issue. Each Optoma ProAV projector model has been painstakingly tested with the HQView320/325/520/530 and a series of optimised presets developed that greatly reduces the complexity and time required to setup blending projects.
If you do require help with your blending project, uniquely, the industry leading Optoma ProAv support team is on hand to support your complete blending project – the blending boxes and the projectors as a single system. This greatly simplifies the support process for you and enables us to assist you get your blending projects back on track quickly and efficiently.
For more than ten years Optoma has been one of the world's foremost projector designers and manufacturers - amongst the very few companies that focus exclusively on projectors.
Today the Optoma range represents the evolution of projection expertise, honed and refined by manufacturing and supporting millions of projectors the world over. This knowledge and skill has been distilled into our products and support services which are designed specifically for demanding professional applications.
Higher education

Lecture theatres

Houses of worship

Museums

Conference rooms

Digital signage

Stage shows

Live events

Projection Mapping
Auditoriums

Boardrooms

Broadcast studios

Large classrooms

Exhibitions

Meeting rooms

Post production

Theatre

Trade shows
HQV Scaler with Warp Mapping
Edge Blend & HDMI/DVI In/Out
Harnessing the power of the ReonTM video processor running state of the art HQVTM algorithms with expertly designed hardware and firmware from Calibre, HQView325 is a highly flexible warp and blend scaler for professional, broadcast and corporate AV users.
HQView325 features 4-sided soft edge blend with multi-region black level correction for seamless blending of multiple projectors. It also includes flexible geometry correction functions able to correct image shape and projector misalignment by dragging and dropping each image corner, or by pin/barrel, rotation or by keystone and rotation.
Full warp mapping is also supported by HQView325. A PC application is included for easy warp map creation or third-party generated warp maps can also be processed from automatic image alignment systems making HQView325 ideal for stacked projector alignment and curved screen multi-projector tiling.
HQView325 has digital I/O compatible with DVI and HDMI including deep colour support.
Best in class professional image processing in a compact affordable 1U format

Improve video image quality with better detail and clarity

Powerful geometry correction for off-axis projection, pin/barrel, image rotation

4-Sided soft edge blend for tiling multiple projectors to produce large images

Flexible warp mapping for curved screen projection, simulation and 3D alignment

HDMI, DVI & VGA inputs with signal compatibility up to 1080p & WUXGA

HDMI/DVI multifunction output

Motion adaptive per pixel video de-interlacing, HD & SD

Multi-directional diagonal de-interlace filter

Automatic 3:2 & 2:2 pull-down detection with automatic film, video and video over film detection

Chroma and Luma transient improvement

Edge anti-aliasing

4-field full resolution SD & HD processing

4D Motion, Noise Adaptive HQV noise reduction for spatial and temporal noise

Codec noise reduction for mosquito and block compression noise

Direct input selection keys allow input selection without using menu system

Flexible colour calibration controls

Gamma controls

Selectable processing versus latency: best picture and low latency modes

Latency as low as 0.25-frame progressive inputs, 1.25-frames interlaced inputs

I/O Lock and Free Run selectable output modes

USB port for in-field firmware updates

Programmable customer logo on menu

TCP/IP remote control and Web Server

Easy to navigate self-explanatory OSD menus

Powerful geometry correction capabilities

Pan, Zoom, Tilt Image rotation, pin/barrel correction

4-Sided edge blend with 48-bit processing & multi-region black level correction

Flexible warp mapping
Inputs
1x HDMI with HDCP support, 8/12 bit deep colour compatible.
Audio de-embed from HDMI of SPDIF compatible formats
1x DVI with HDCP support
1x VGA Analog via 15HDD
Supported video formats:
HD 720p, 1080i, 1080psf, 1080p23.97/24/25/30, 1080p30, 1080p50, 1080p59.94, 1080p60
ED 480p, 576p
SD 625i (576i), 525i (480i)
Common VESA graphics formats from 640x480 to 1920x1200 (with reduced blanking for 1920x1200 and 1600x1200 modes)
Outputs
1x DVI/HDMI with HDCP (HDMI with deep color 8/10/12 bit support, via DVI connector)
1x S/PDIF digital audio via RCA
Supported Output formats:
DVI/VGA common VESA formats 640x480 to 1920x1200, 720p, 1080p
Selectable I/O lock or frame rate conversion mode
Selectable aspect ratio conversion
User Controls
Remote control via RS232, TCP/IP API and Web Server.
PC-based Warp Map Generator tool
Keypad for direct input selection and control of common adjustments as well as OSD menu access.
USB port for uploading software updates and new features
Power Requirements
100-264VAC, 35W typical
Warranty
3-years return to base warranty covers parts and labour.
No customer reviews for the moment.