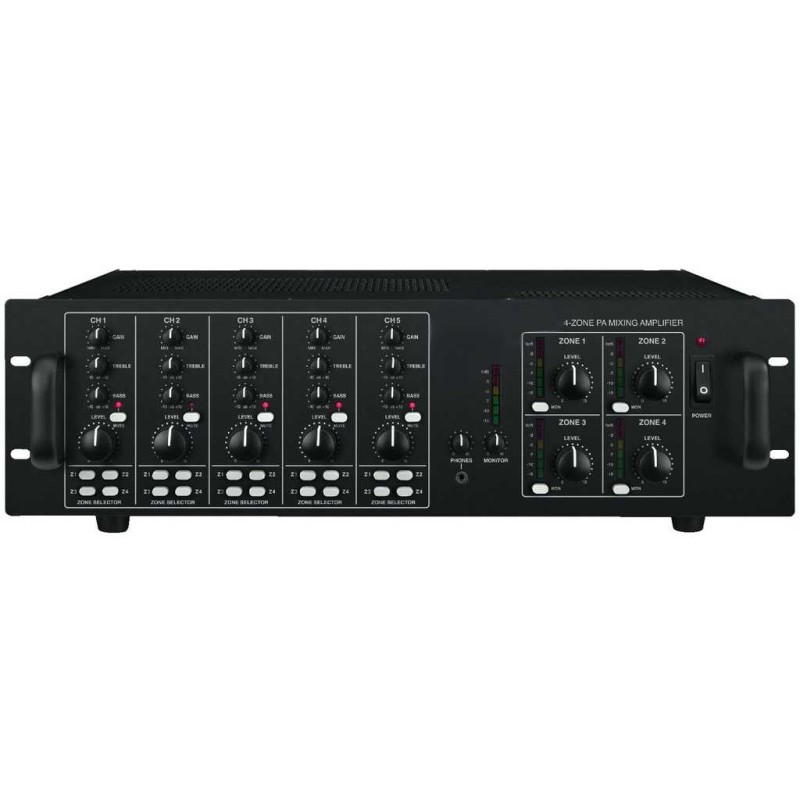  
4 Zone Mixer Power Amplifier 4 x 120W 5 Inputs
4 x 120WRMS, 100V and 4 Ohm/8 Ohm operation
3 inputs microphone/line via comb. jacks
Microphone inputs with +46V phantom power, can be switched on additionally as required
4 zone outputs, can be controlled individually
4 x 120W 4 Zone Mixer Amplifier 100V 4/8 Ohm
The 4 x 120W 4 Zone Mixer Amplifier 100V 4/8 Ohm is a 4-zone mono mixing amplifier, with professional features for universal multi-room PA applications. The amplifier features an integrated limiter designed for perfect utilisation of the capacity and reliable protection for connected speakers.
Features:
4 x 120WRMS, 100V and 4 Ohm /8 Ohm operation
Perfect utilisation of the capacity and reliable protection of the connected speakers due to an integrated limiter
3 inputs microphone/line via comb. jacks
2 inputs line stereo via RCA jacks
Each input channel with gain control, 2-way tone control, channel mute switch and routing switch for zones
Microphone inputs with +46V phantom power, can be switched on additionally as required
Priority function for channels 1-3, switchable
Independent paging input, can be routed to all zones
4 zone outputs, can be controlled individually
Zone and monitor line outputs for additional amplifiers or recorders
Connection for monitor speakers
Level control via VU meters for zone and monitor
Adjustable headphone output
Fan-cooling
230V mains operation
Technical specifications:
Output power 4 x 120WRMS 4 x 170WMAX
Mic/line 5mV/4k, 100mV/10k 100mV/30k
Telephone paging 40mV/5k
Speakers 4 x 25V/70V/100V, 4 Ohm /8 Ohm
Monitor speakers 8 Ohm /1W
Line (zone) 1.7V, bal.
Line (mix out) 3.95V
Frequency range 50-17,000Hz Bass ±10dB/100Hz Treble ±10dB/10kHz
S/N ratio, mic > 65dB
S/N ratio, line > 75dB
THD < 1%
Admiss. ambient temp. 0-40 °C
Power supply 230V/50Hz/1,200VA
Dimensions 482x133x410mm, 3RS
Weight 20.5kg
Mic/line 3 x 6.3mm/XLR comb. jack, bal. 2 x RCA L/R
Paging screw terminal
Priority screw terminal
Line (zone) screw terminal
Line (mix out) screw terminal
Headphones 3.5mm stereo jack
Speakers (monitor) screw terminal
Speakers (zone) screw terminal
Power supply 3-pin IEC jack
No customer reviews for the moment.