EtherLink 232 RS232 to Ethernet interface for Client and server applications
Description
EtherLink 232 is the ideal solution for remotely controlling RS232 serial devices over Ethernet via your LAN / WAN network or even over the Internet.
EtherLink 232 supports baud rates up to 230.4Kbps and can operate as a client or server utilising either TCP or UTP protocols with set up via the network.
It also has a power LED to indicate when power has been connected, Link and Data indicators, and a RX / TX LED to indicate when the unit is transmitting it's RS232 commands.
Power supply is included.
Key Features
10/100 auto detect interface.
Supports auto MD/MDIX.
Virtual serial port support.
Link and Data indicators.
Use as a server or client.
Supports four simultaneous clients in server mode.
Easy to install.
Backed by iKONS 3-year warranty and free lifetime technical support
Specification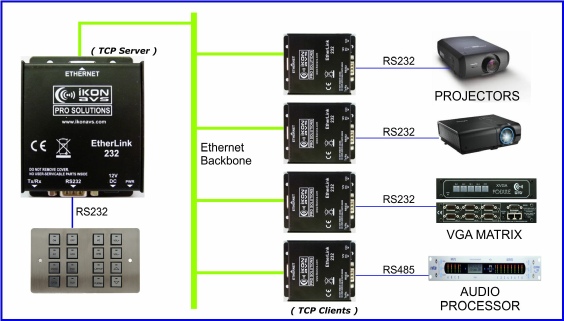 Hardware devices
1 x Bi-directional RS232 Port
1 x Ethernet port
1 x Data and Link Indicators
1 x Power Socket
1 x Power Indicator
Power requirements  12V DC, 60mA @ 12V.
Size = 67mm x 38mm x80mm, Net weight = 100g