Definity E2083 Ethernet enabled 8 button controller on screwless dual gang panel, with UK psu. Add /EU for EU psu
Description
The Definity E2083 is an Ethernet enabled version of the Definity 2080. It can be controlled over Ethernet via a LAN /WAN network or even the Internet.
Mounted on a UK 2 gang screwless panel in a range of finishes, it is ideal for control of projectors, plasma and LCD's displays via, RS232, IR or both.
When connected to an Ethernet Backbone it will also give control of multiple other devices, in the same room or different rooms and locations.
RS232 and IR commands can be loaded from the embedded libraries or user created files.
Two outputs are provided for control of external relays or indicators for screen control etc. It also has two external inputs for use with an external switch or a PIR detector for additional control functions or shutdown.
The E2083 can be programmed using the quick and easy Synergy software using a simple menu structure with 'drag and drop' configurations along with both central and user created libraries for both RS232 and IR functions.
The Syn-Link port is used to link to the Ethernet module mounted on the rear of the unit.
Automatic button label generation and printing is included within the software.
Detachable screw terminals are used for all outgoing and power connections for ease of installation.
Power supply included. UK supplied normally or add "/EU" to order code for European supply.
Key Features
Ethernet port to connect to LAN / WAN network.
A bi-directional RS232 port gives control over projectors, displays and other RS232 devices.
Two IR port supporting emitters for control of devices such as video players, receivers and amplifiers.
Two inputs, one which can be used with an external PIR sensor for room occupancy sensing, the second can be used to either lock the panel or power off the system.
Two outputs can be configured to control motorised screens, projector lifts, projector power switching or  be controlled independently by any button.
Specification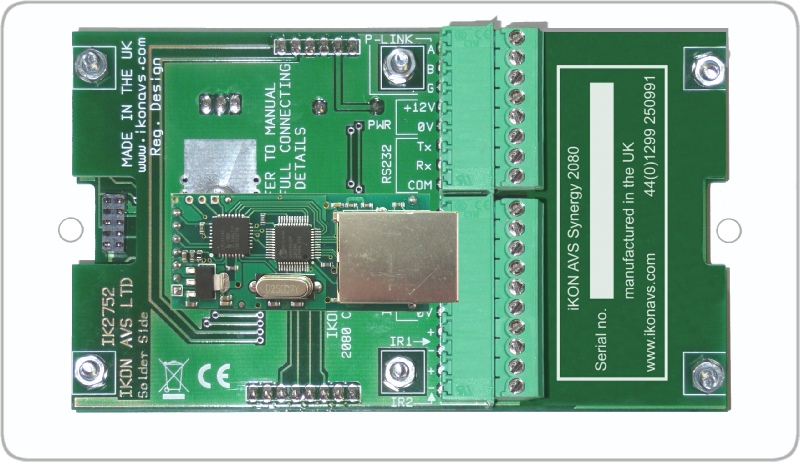 Hardware devices
8  Push Buttons
8  Green LED's
1  Bi-directional RS232 Port
1  Ethernet Port   
2  IR Outputs
2  Digital Inputs
2  Open collector outputs
Power requirements
12V DC @ 110mA max. (all LEDs on)
Overall size = 146mm x 85mm
Required depth = 30mm ( 44mm back box recommended )
Net weight = 220g