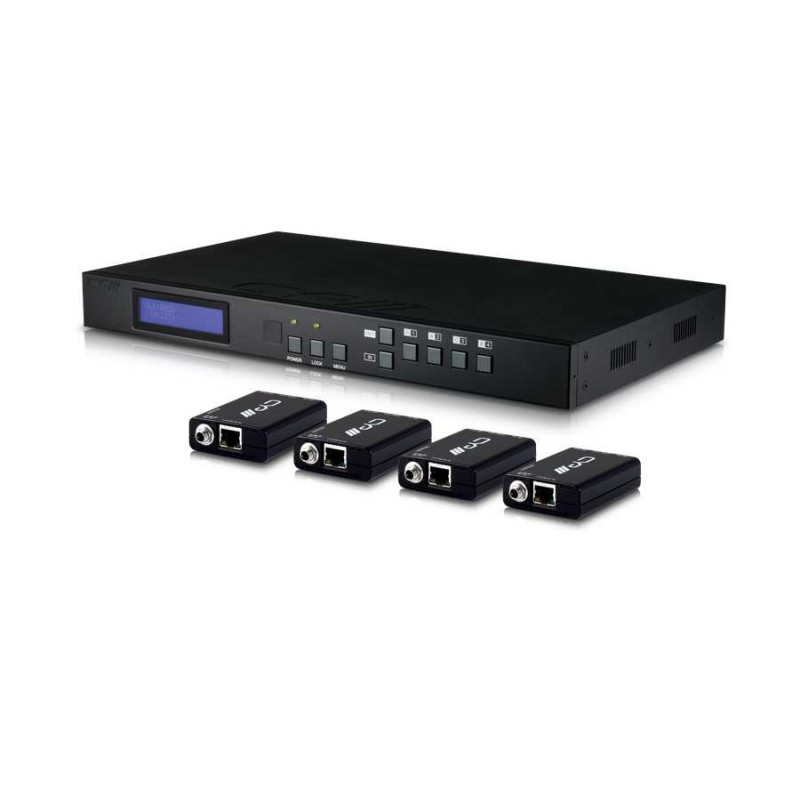  
CYP PU-44XL-KIT Express Kit - 4x4 HDBaseT LITE Matrix with 4x PU-514L-RX Receivers
CYP PU-44XL-KIT Express Kit  -
This 4 by 4 HDMI HDBaseT Lite Matrix Express Installation Kit has been developed as a robust and cost effective solution at the heart of any four zone multi-room environment. Supplied complete with a HDBaseT Lite Matrix plus four PU-514L-RX receivers
CYP PU-44XL-KIT Express Kit - 4x4 HDBaseT LITE Matrix with 4x PU-514L-RX Receivers
​​​This 4 by 4 HDMI HDBaseT Lite Matrix Express Installation Kit has been developed as a robust and cost effective solution at the heart of any four zone multi-room environment. Supplied complete with a HDBaseT Lite Matrix plus four PU-514L-RX receivers, the kit enables an installer to easily and confidently configure a 4-zone multi-room AV system using HDBaseT Lite technology and distribute content throughout the system over a Single CAT5e/6/7 cable infrastructure.
The Express Install Kit supports the transmission of video (resolutions up to 1080p Full HD and 1920x1200@60Hz), multi-channel digital audio, and control via IR, RS-232, or Web GUI/Telnet IP, from four high definition sources to four HDBaseT outputs over a single CAT5e/6/7 cable (up to 60m) for each output.
The PU-44XL-KIT is supplied with 4x PU-514L-RX receivers which utilise the 2-way IR control capabilities of the matrix. Utilise the USB power output from a TV as an optional way of powering the PU-514L-RX receiver unit alternative to a mains power supply.
Use the IP control feature to enable users to access and control the matrix remotely and also allow additional options for integration of third-party control systems. CYP provide control drivers for control systems such as Control 4, RTI, Crestron, AMX, and Control FX. These are available at no extra cost. 
You might also like
£218.47
Tax incl. - £218.47 Tax excl.
No customer reviews for the moment.