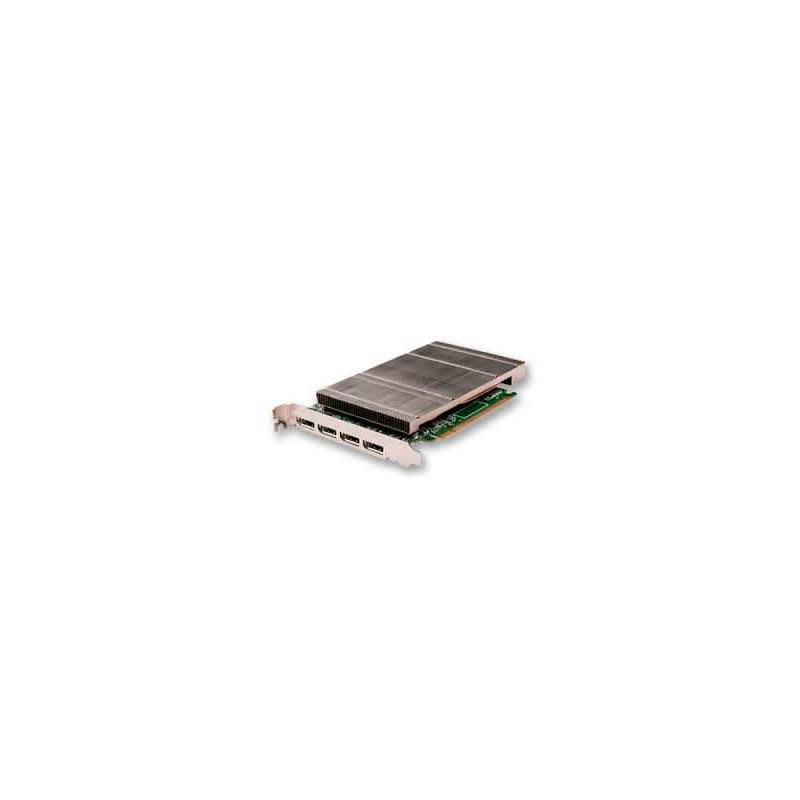  
Datapath IMAGE-DP4 4x4K HDMI PCI Express Card DP4
Datapath 4x4K Card DP4
Four lane PCI Express graphics card
High output resolution
Supports HDCP in a Datapath environment
Up to 16 cards per system for a maximum of 64 display channels
Datapath IMAGE-DP4 4x4K HDMI PCI Express Card DP4
Datapath Graphics Card - 512 MB GDDR5 - 600 MHz
Four lane PCI Express graphics card
High output resolution
Supports HDCP in a Datapath environment
Up to 16 cards per system for a maximum of 64 display channels
The ImageDP4 is a high performance, four channel graphics card that provides a smooth performance upgrade path from the Datapath Image4.
The ImageDP4 combines a single, powerful graphics processor with improved memory and PCI Express bandwidths to provide responsive performance at up to double the resolution of previous Datapath graphics cards.
Advanced display technology allows up to 16 ImageDP4 graphics cards to be supported by the Datapath display driver, providing a high resolution Windows® desktop comprising up to 64 screens. This ability to present standard Windows® applications alongside full frame-rate video on a single high resolution desktop allows the visualisation of large amounts of data at once to aid effective decision making. To complete the integration into a single desktop, all the outputs of the ImageDP4 graphics card are automatically frame-locked across all cards within a system.
This four channel DisplayPort graphics card is optimised for use with the Datapath range of capture cards for systems requiring video overlays from a wide range of sources and resolutions. Video windows can be positioned and sized anywhere on the multi-screen desktop, while maintaining full frame rate, true colour rendering throughout.
Combining the Vision video capture cards with an ImageDP4 graphics display allows the construction of high-end display wall systems.
The ImageDP4 card natively supports four full-sized DisplayPort outputs for the convenience of high resolution, locking cable connectors and significantly longer cable lengths. Air flow management is optimised through the use of passive cooling, providing high reliability for any multi-screen solution.
No customer reviews for the moment.