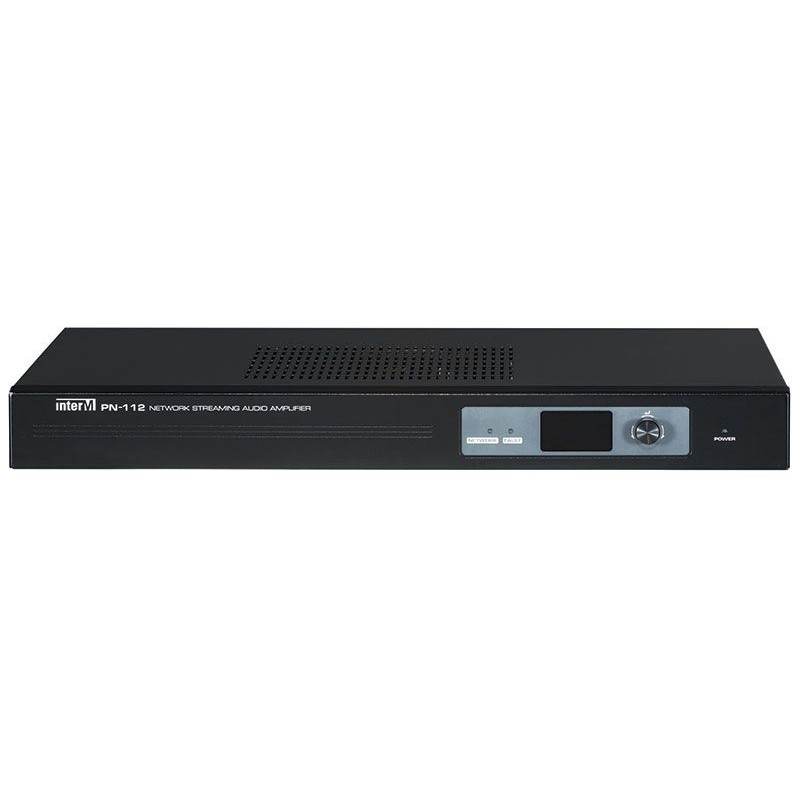  
Inter-M PN-112 120W Network Mixer Amplifier compatible with MS-N300 GUI
Combine conventional analogue loudspeakers with audio-over-IP network distribution

120W 100v line / low impedance amplifier

High Efficiency Class-D Amplifier

Analogue Audio Input Terminal Support: XLR and RCA analogue audio inputs are provided

Supports remote system monitoring and control

Network audio receive and transmit functionality
Inter-M PN-112 120W Network Mixer Amplifier compatible with MS-N300 GUI
The Inter-M PN-112 is a 120W professional Network Audio Amplifier, combining conventional 100v line / low impedance technology with the latest in audio-over-IP network connectivity.
Together with standard microphone and Line/Aux inputs, the PN-112 Network Mixer Amplifier also functions as an audio-over-IP receiver (to receive digital audio sources over the LAN / WAN network) and network audio streamer - transmitting its signal to additional PN Series amplifiers on the same network.
The flexibility for local, campus and wider network zoning, therefore, becomes almost infinite; as transmission distances increase, number of potential zones increases into the hundreds and system control is fully managed over the network from a simple, intuitive user interface.
Unlike conventional mixer amplifiers, the Inter-M PN Series can be controlled via it's MS-N300 user interface, allowing remote monitoring and control of functions such as audio volume setting, sound file management andpriority setting through the network.
- - - - - - - - - - - - - - - - - - - - - - - - - - - - - - - - - - - - - - - - - - - - - - - -
The PN Series of Network Streaming Amplifiers:
All-in-one remote control:

Where broadcasting was initiated from independent buildings, the PN Series enables multiple broadcasting integrated on the network without distinction of multiple buildings or networks.
The PN Network enables broadcasting and status monitoring of Amplifiers in each network area using our MS-N300 Software.
PN Network Applications: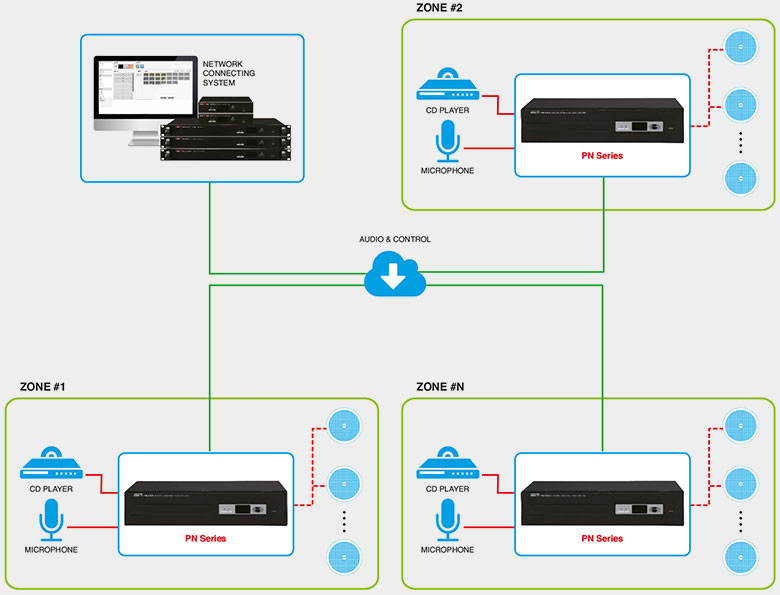 Both LAN and WAN applications are supported by the PN Series and working on site or remotely is enabled and integrated.
The PN Series enables easy CCTV Networking over a wide-spread area. With an intruder, a warning signal is sent to the local area and an alarm sound may be programmed to broadcast in the local area. A highly effective system for applications used in military grounds, airport runways and in security, power generation and oil facilities.
In retail applications, the PN Series can be used to easily facilitate background music, public address announcements to stores across the country and enables amplifiers to be checked at any particular store, all done effectively across the network.
Combine conventional analogue loudspeakers with audio-over-IP network distribution

120W 100v line / low impedance amplifier

High Efficiency Class-D Amplifier

Analogue Audio Input Terminal Support: XLR and RCA analogue audio inputs are provided

Supports remote system monitoring and control

Network audio receive and transmit functionality
| Description | PN-112 |
| --- | --- |
| Output Power (1kHz,THD. 1%,AES17) | 120W |
| Frequency Response (1W, 0±3dB, 20kHz LPF) | LINE/Audio Client: 80Hz~15kHz, MIC: 100Hz~15kHz |
| THD (Rated Power, 1kHz, AES17) | Less than 1% |
| S/N @1kHz (S/N, A-WTD) | LINE/Audio Client: More than 70dB, MIC: More than 55dB |
| Input 1/Input Impedance | MIC: -60dBv/2kΩ (Balanced) |
| Input 2/Input Impedance | LINE: 0dBv/24kΩ (Unalanced), MIC:v-60dBv/2kΩ (Balanced) |
| Input 3 (Network) | Audio Client: 0dBv |
| Speaker Output Level / Impedance | 100v/84Ω, 70v/41Ω, 22v/4Ω |
| Network Communication | 100/1000 base-T (RJ-45) |
| Operating Temperature | -10℃ ~ +40℃ |
| Operating Power | 120~240v AC, 50/60Hz |
| Power consumption (Rated/8W output) | 55W |
| Dimensions | 44(H) x 420(W) x 320(D)mm |
| Weight (Net) | 4.49kg |
| Weight (Gross) | 5.40kg |
No customer reviews for the moment.