MA60-Media Mixer/Amplifier with 4x CS-C5 Speakers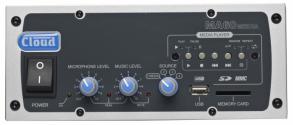 ​
Cloud Speaker System MA60Media 4 Input 60W Mixer Amplifier with 4x CS-C5 Ceiling Speakers
The MA60 Media is an exciting new development from Cloud Electronics, combining for the first time the proven versatility of Cloud mixer-amplifiers with the convenience of an on-board media player in a single compact (2U, half-rack width) unit, and at a very keen price point.


CS-C5W White 20W 100V Line Flush Ceiling Mounted Speaker
The Cloud CS-C5 In-Ceiling Speaker is a 5-inch coaxial two-way loudspeaker featuring exceptional intelligibility and musical performance. Using premium drivers and electronics, the CS-C5 offers high sensitivity, smooth frequency response and excellent off-axis performance.
The Media Player supports .MP3 or .WMA files directly from a USB device or SD memory card plugged into the front panel of the unit. All standard data rates and sampling frequencies are supported. A simple set of playback controls (ShufflePlay etc) is provided on the front panel with the least amount of user/error functionality
The MA60Media will find many applications in the Retail, Hospitality, Licensed Premises and other entertainment markets and is the most feature rich of the Utility Mixer/Amps on the market which also offers the best sound quality and the traditional Cloud reliable.
Single Zone, 60w, 4Ω Output as Standard with Optional 50w, 70/100v Internal Transformer (CXL-50T)
Product Features:
Four-input mixer-amplifier with integral 60w 4Ω mono power amplifier
Optional 70/100v Internal Transformer (CXL-50T)
Built-in digital music player supports .MP3 and .WMA files at all standard data rates/sample frequencies
Gain trims on all inputs
Electronically-balanced mic input
3.5 mm jack input (LINE 2) for MP3 player, laptop, etc.
Overall HF & LF EQ adjustment
Short-to-ground access connector or VOX-triggered paging on mic input
Selectable LINE 4 priority over other music inputs
Music Mute control input (NO or NC) for interface to emergency system
Compatible with standard Cloud remote controls – RL-1 (music level) and RSL-4 (music level and source selection)
Electronically-balanced pre-amp output
Transformer-isolated auxiliary output with independent mic and music level control - for use with telephone MOH systems
Aux output source selection (internal jumper) – fixed source or follow main output
Dimensions (mm) - 213.0 wide x 88 high (2U) x 278 deep (+ connectors & knobs)
Optional Rack Kits (RE-S & RE-L)
Accessories:
RL-1 & RL-1A Remote Music Level Control
RSL-4 Remote Music Source Selector
RE-S Rack Mounting Housing Kit
RE-L Rack Mounting Housing Kit
BOSE Loudspeaker EQ Card
CXL-50T 50w Toroidal Transformer
EQ Cards for Amina AIWX & LFiT Loudspeakers
RL-1B Remote Volume Level Control Plate in Black
RL-1W Remote Volume Level Control Plate in White
RSL-4B Remote Source / Volume Level Select Plate in Black
RSL-4W Remote Source / Volume Level Select Plate in White
RL-1MW Remote Volume Level Media Control Plate in White
XLR-F1B XLR Input Module - Black - Female
XLR-F1W XLR Input Module - White - Female
XLR-M1B XLR Input Module - Black - Male
XLR-M1W XLR Input Module - White - Male
RL-1MB Remote Volume Level Media Control Plate in Black
PM1 Paging Microphones