JBL Marquee Twin Dance Stack Sound System
with MD1, MD2,MD3, MD7, IT4x3500, VRACK + Cables + Setup
Power, Energy & Passion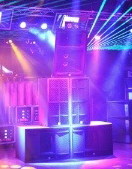 As a club designer, creativity, vision and passion are the heart of an electrifying experience, whether it's a world-class mega-club or an intimate lounge. With this in mind the new JBL Marquis Dance Club Series was created- to help you drive the energy in your club, and to ensure an electrifying experience for all your patrons. 
With over six decades of experience, JBL engineers have brought their passion for delivering the soul and depth of music to dance floors since before the disco boom in the 1970's.
Specifically designed for the extreme requirements of large and mega-size clubs, the Marquis Dance Club Series comprises eight powerful multi-way systems and subwoofer models that combine JBL's extraordinary sound, proven reliability and state-of-the-art technology with striking architectural design and versatile configurability.
From thumping mega dance floors to tranquil VIP lounges, from eclectic chill rooms to complex sound booths, the Marquis Dance Club Series systematic loudspeaker designs are scalable to smaller venues, ultra lounges, and mega clubs alike. Regardless of the application, the Marquis Dance Club Series is a multi faceted tool for you to achieve your vision.
JBL Selenium Ultra High Frequency Bullet Drivers
Super high frequencies are handled by the MD1 Super Tweeter module, ensuring extremely high sensitivity and low distortion for transparent response and excellent coverage. Their long throw makes them ideal for the large dance clubs ensuring your patrons hear every nuance of the music.
JBL Progressive Transition Waveguides
JBL's patented Progressive Transition Waveguides direct the sound of all the Marquis Dance Club Series compression drivers to provide outstanding pattern control with smooth sound and extremely low distortion. The result is accurate and natural sound throughout the coverage area, uniformly dispersed, even at extraordinarily high dance club volume levels
JBL Differential Drive Technology
The entire complement of the Marquis Dance Club Series drivers employ JBL's patented Differential Drive technology which incorporates two voice coils and two magnetic gaps providing higher peak output with less power compression. The MD7 subwoofer also employs JBL's Vented Gap Cooling™ that provides immediate heat transfer for reduced operating temperatures. The result of these technologies is consistent sound quality even at non-stop, mega-club volumes.
Superb Architectural Design and Versatile Configurability
The Marquis Dance Club Series features stunning, high design that is fully complementary with premier club environments. Whether you choose to deploy their stunning architectural features into your overall aesthetic, or configure them into the background, their technical performance is specifically designed for dance clubs to ensure your patrons will be immersed in the soul and depth of the music regardless of where they are in your club. Their wide array of configurability ensures compatibility with the specific design goals, power requirements and coverage needs of any environment you envision. Rugged as well as versatile, the Marquis Dance Club Series is built to the highest professional standards to withstand continuous, demanding professional use and are covered in ruggedized cabinet coverings and durable metal grills that not only will blend in with your design vision, but will handle the nightly abuse of thousands of hours of electrifying sound.