Mode EVO-05-18-TE Evolution Power & Processor Unit (18 Channels of 5 Amps, Trailing Edge)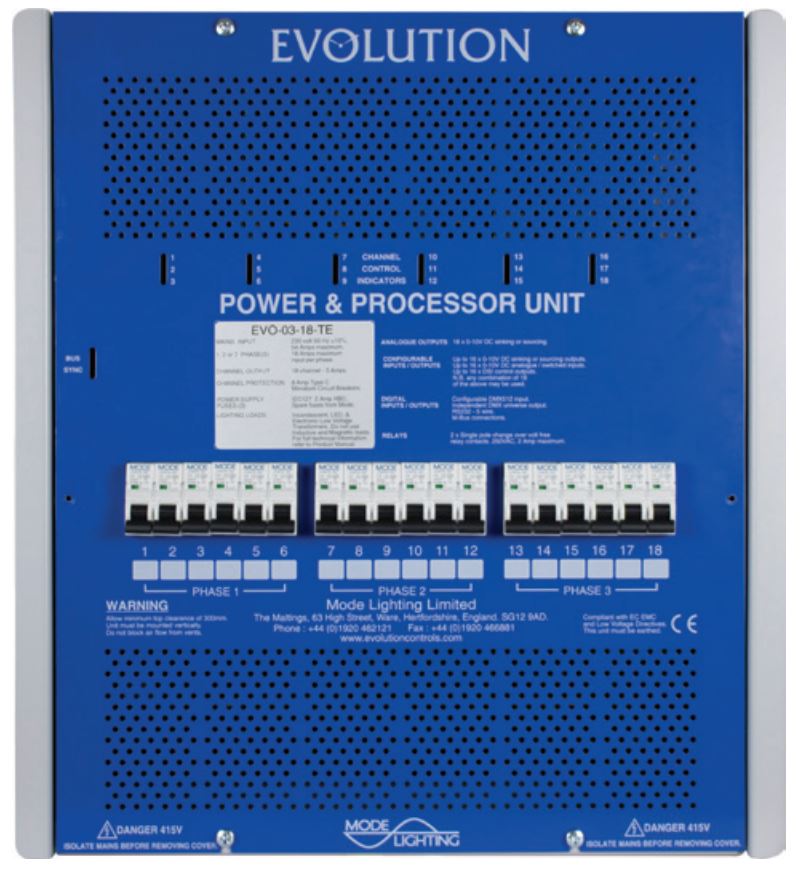 - EIGHTEEN CHANNELS of 3 amps suitable for Trailing Edge and Resisitive loads only.
- FULLY CONFIGURABLE control operation.
- MULTI-FUNCTION DSI, DMX, M-BUS, RS232, 0/1-10 Volt and contact operation.
- ASTRONOMICAL TIME CLOCK built in.
- INTELLIGENT SELF MONITORING power supply.
- FACTORY SET DEFAULT operation for quick installation and testing.
- CIRCUIT PROTECTION individual 8 Amp Type C MCB for each channel.
- EMERGENCY OUTPUTS (2 per phase) fixed live MCB protected outputs for maintained emergency supplies.
- SUPPLY INPUT 200-250 Volt 50-60 Hz. Single or Three phase options.
- COMPLIES with EC EMC and Low Voltage Directives (CE).
- MODE products are guaranteed for two years.