Mode ECO-MLP-55WH LCD Control Plate - White (10 White Buttons, Twin Gang, excluding Fascia Plate)
Key Features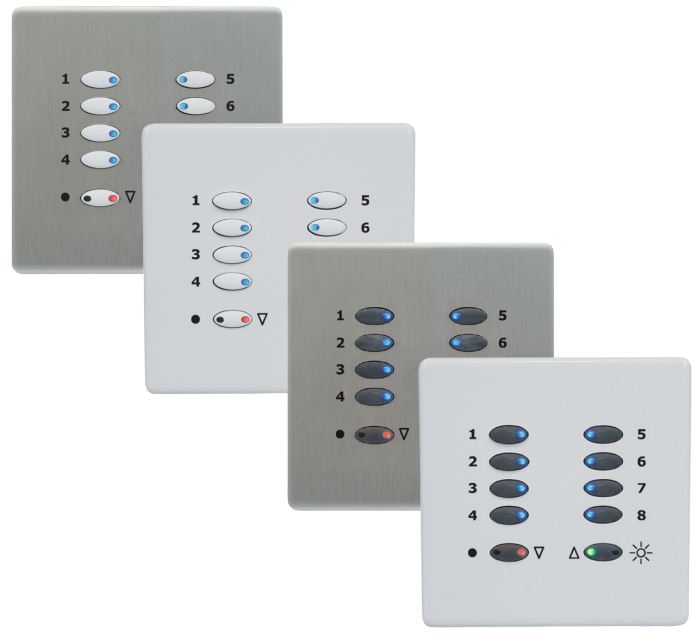 » Single gang plate
» Screwless fascias plate utilising the MK Aspect 
range 
» Buttons available in either black or white
» Multifunction buttons - scene recall, impulse 
and toggle
» Indicator LED's with seven user selectable 
RGB colours and intensity. Red, Green, Blue, 
Magenta, Cyan, Orange and White.
» Integral IR Infrared receiver
» 1-4 Room Partition facility
» Two volt-free contact switch inputs - 
Individually addressable and configurable
» Keypad Lockout
» Fault condition feedback via LED flashing
» 2 year warranty
The lighting within an installation can be manually 
controlled by a multi-button Control Plate.
The 10 Button Control Plate provides eight 
configurable buttons allowing scene recall, impulse 
and toggle and two multifunction buttons providing 
On & Raise and Off & Lower with integral IR 
receiver. All buttons have integral RGB LED's.
The indicator LED's within the buttons are RGB and 
dimmable, therefore seven colours of selectable 
intensity are available. Where buttons have a 
multifunction i.e. Toggle On & Off, the LED colour 
can toggle, say Green & Red to provide current 
status.