MTX-A88 8x8 Stereo audio matrix with Balanced outputs
Description
Use as the heart of a distributed audio system, as the router for a multi room system or as part of a complex boardroom system, the MTX-A88 offers an easily controlled and configured central stereo audio processor with individual level control of each output.  It is also ideally suited for multiroom audio and headphone distribution system when used with the remote panels.
Inputs are unbalanced via 3.5 mm stereo jacks; whilst all the outputs are balanced and share individual RJ45 sockets with control and DC power, allowing a single Cat5 cable between the MTX-A88 and its remote outlets and control panels.
The current output assignments are shown on the front panel LCD and the MTX-A88 also incorporates multiple selectable operating configurations, volume range setting and online level trimming expanding its abilities beyond simple audio switching. 
The MTX-A88 can also be controlled via RS-232, PodNet or Ethernet using the optional board, to allow remote selection of input sources and volume control from individual rooms or centrally from our push button and tablet based controllers.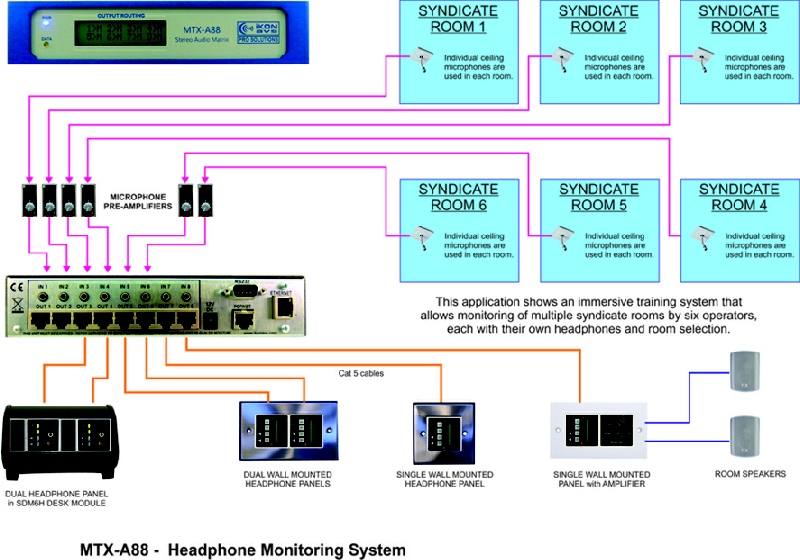 Supplied complete with UK power supply, add '/EU' to order code for European power supply.
Key Feature
Eight stereo inputs with programmable level.
Eight balanced stereo outputs with programmable level.
Individual channel remote via a combination of dedicated panels, RS232, Ethernet*, or Podnet.
Multiple presets for pre-set and conditional routing and level,
Priority paging facility.
Input and output expansion options.