ProDVP-HDII SD Player - HD Digital Video Player which uses flash memory cards with RS232 Control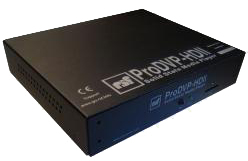 The ProDVP-HDII is an HD Digital Video Player which uses flash memory cards. The total absence of mechanical parts in its design guarantees absolute reliability. Configurable by scripts, the ProDVP- HDII is flexible enough to provide solutions to a wide range of applications. A further example of its flexibility lies in the control options: input contacts, Ethernet, and RS232, plus output relays enable performance as YOU want it. The player can also be integrated with a touch screen to allow full HD interactivity. A professional hardware video scaler ensures real-time, high quality, full HD output.
Reliable
Storage on SD Flash Card. No moving parts.
Quality
Digital MPEG4 high quality video up to 1080p.
Complete Control
The use of text-file scripts allows simple, yet precise definition of the ProDVP-HDIIs configuration.
Audio
Digital or analogue output. Option of uncompressed Linear PCM audio files.
Comprehensive Connectivity
Full flexibility for AV connections, plus USB port for touchscreen, audio devices and more. Input contacts and relays give basic show control functionality.
Ethernet
Control and update content onto the player via a LAN. Transfer protocol is not impeded by firewalls.
Full Interactivity
By using a touchscreen, visitors can control the player directly with an unlimited number of DVD-style menu pages.
Warranty
3 Years Warranty.