Mode ENC-DIN-01-18 DIN Enclosure (1 Row, 18 Way, Polycarbonate, IP55)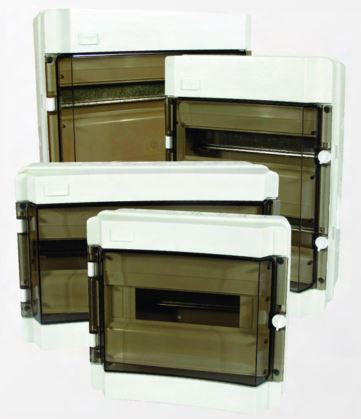 If you require an enclosure to house 
the eDIN components and other associated 
electrical protection devices, 
then our range of ergonomically designed, 
insulated modular enclosures 
provide the perfect solution.
Available in sizes from 12 to 54 ways 
all are complete with DIN rail, neutral 
and earth brass terminal bars 
and provide IP55 protection.
- Attractive design
- Five sizes available, offering 12, 18, 24, 36 & 54 
ways.
- Fully insulated, manufactured from high impact, 
flame retardant, ABS material.
- Removable transparent polycarbonate hinged 
cover.
- Extensive good sized cable knockouts positioned to 
the top, bottom and sides of the enclosure.
- IP55 Protection rating.
- Fitted DIN rail.
- Designed to accept industry standard modular devices.
- Supplied with fitted neutral and earth screw terminal 
bars.
- Supplied with 6 way blanking strip.
These enclosures provide a practical method for the housing of the eDIN range of components and other modular 
electrical and isolation devices, allowing the installation engineer the opportunity to create an attractive 
and coordinated lighting control and electrical distribution solution.